'Harry Potter and the Cursed Child' Movie Happening? Warner Bros. Could Seek Another Film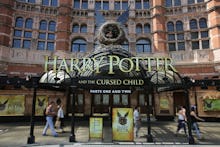 The Harry Potter film series may be over, but Harry Potter's story is continuing on in a new West End play, Harry Potter and the Cursed Child. Yes, it's a play — and sort of a book, but the book is essentially the play's script packaged neatly — and Rowling has insisted that there won't be a film adaptation for the new narrative set 19 years after the final book. 
It's curious, then, that Warner Bros. has reportedly filed for a Class 9 trademark for the Cursed Child, which specifically includes pursuing "motion picture films featuring comedy, drama, action, adventure and/or animation, and motion picture films for broadcast on television featuring comedy, drama, action, adventure and/or animation." 
It's important to note, however, that the trademark also includes the likes of merchandising material, so it could just be the case that they want to sell timely Harry Potter-themed items. However, considering Hollywood's propensity for continuing franchises — including a Harry Potter spinoff trilogy, Fantastic Beasts and Where to Find Them — this wouldn't exactly be a surprise. 
Moreover, Daniel Radcliffe has already stated that he wouldn't rule out returning to the Wizarding World if possible, and his age wouldn't make that a stretch for the Cursed Child's narrative. (Thank goodness, too, so they don't have to use that unsettling aging CGI from the final film). 
However, any news of a Cursed Child movie should be taken with a heavy grain of salt without an official announcement or Rowling's blessing. We could also be getting way too ahead of ourselves — the play is still in preview performances until the end of the month, so it's yet to become a global phenomenon.   
But if Hollywood is willing to decide that Tetris — Tetris! — is worth pursuing as a trilogy, another Harry Potter film can't, and shouldn't, be out of the realm of possibility. 
Read more: