The UK County Nottinghamshire Just Made Cat-Calling a Hate Crime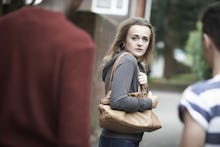 Getting shouted at in the streets just for wearing a skirt sucks — but is it a hate crime? British police in the county of Nottinghamshire seem to think so. 
"Nottinghamshire Police, in partnership with Nottingham Women's Centre, has become the first force in the country to recognize misogyny as a hate crime," the United Kingdom police department announced yesterday on its website.  
The police department defines a "misogyny hate crime" as criminal behavior "towards a woman by men simply because they are a woman." That means that sexist verbal abuse, street harassment, photographing women in public without their consent and unwanted sexual advances online would all qualify as hate crimes, Fusion reported. 
Perhaps unsurprisingly, outraged male critics are now bombarding the police department's Facebook account with indignant comments about the new policy. Men are tweeting to Chief Constable of Nottinghamshire Police, Sue Fish, that she's created more "reasons for men to hate women," and some trolls are even harassing female civilians who are praising the new policy online.
Classifying misogynistic behavior as a hate crime rather than just criminalizing street harassment, as six other countries and several American states already have, is a significant move. While British law already had this provision for LGBTQ people nationwide, Nottinghamshire's new policy means that women are now able to report verbal harassment as criminal activity if they feel targeted because of their gender. 
While it may seem extreme to call whistling at someone on the street a hate crime, local reports show that street harassment makes British women feel extremely unsafe in public. Rachel Krys, co-director of the End Violence Against Women Coalition, told The Guardian that according to a recent poll, 85% of women between the ages of 18 and 24 had experienced "unwanted sexual attention" in public, while 45% reported experiencing "unwanted sexual touching." 
It's not only British women who experience aggressive street harassment. According a survey of more than 2,000 Americans by the advocacy group Stop Street Harassment, 65% of women had experienced street harassment.
Nottinghamshire's move to criminalize street harassment is part of a deliberate policy shift to combat "misogyny in all its forms," according to the department's online announcement. 
"It's a very important aspect of the overall hate crime work being conducted," Fish said in the online statement. "One that will make Nottinghamshire a safer place for all women."
Read more: