What are the best credit cards if you're broke? Get a good card — even with bad credit.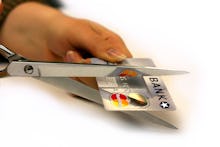 It's nice to fantasize about the free airfare or other perks that come with high-end credit cards, but a lot of that plastic is out of reach for most young people. One study suggests a typical holder of the Chase Sapphire Reserve, for example, earns nearly $120,000 per year and has sterling credit to boot. 
It makes sense that a generation shouldering $1.2 trillion in student loan debt might be hesitant about borrowing even more cash. But credit cards actually end up saving you money if used responsibly — with generous cashback offers and lower interest rates if you build a solid credit history.
"If you're using the line of credit responsibly by paying it down every month, you can actually make money," said personal finance expert Kali Geldis of Nav.com. "The key ... is making on-time payments and keeping balances low relative to your credit limits."
Here's how to get started — whether you're looking for your first credit card, you've got terrible credit or you simply want the best deal you can find.
First, know what kind of credit card you need.
With so many cards to choose from, it may be tough to know what to look for. Here are five broad questions to ask before evaluating different offers.
• What's the Annual Percentage Rate? The APR is basically the amount of interest you pay over the course of the year. In general, the lower your credit score, the higher the rate will be on the cards for which you can get approved — so it's extra important to pay your bills on time.
• Is there an annual fee? Cards with fees often come with better rewards, but if you already carry a balance, focus on no-fee cards.
• Are there perks? The best benefits are generally on the high-end cards that tend to be costly. Perks include cash back on purchases or travel points.
• Can you get a balance transfer offer? A balance transfer offer is often an introductory period where there is a low-to-zero interest rate if you transfer your balance from one card to a new one. This can help you pay off a lot of debt quickly, because your balance stops carrying interest for the grace period. But it's risky if you can't make the payments before your time runs out.
• Would a secured card be best? If you can't qualify for a regular credit card, consider a secured card. You pay a small deposit, often as little as $50, and use it to secure a line of credit. Pay your balance every month, and your credit score will gradually improve.
Financial product review sites like NerdWallet, MagnifyMoney, and CreditCards.com routinely rank the best credits for all sorts of borrower profiles, from secured cards that help you rebuild your credit to power-credit cards that can get you into swanky lounges and VIP rooms.
Here are some of their best picks for 2017.
The best credit cards for low interest rates
Low-interest rate cards are best for people trying to get out of debt, since interest accumulation makes a large balance balloon. But alas it might be hard to get approved with a too-low credit score. That's why these cards really might be most appropriate for those who don't have a ton of debt but earn irregular incomes — and thus need to cover expenses month to month.
Barclaycard Ring Mastercard: For long-term low interest, NerdWallet, CreditCards.com, and MagnifyMoney all recommend the Barclaycard Mastercard as one of the best picks for 2017, in rankings last updated in February, March, and April respectively. It has no balance transfer or annual fee and an ongoing APR of 13.74% once the introductory period has passed. That said, it comes with no spending perks — and requires excellent credit. 
Chase Freedom Unlimited: Another option was the Chase Freedom or the Chase Freedom Unlimited, which also appeared on multiple rankings and have no annual fee, and 0% APR for the trial period and cash back. That said, NerdWallet notes it isn't so great for balance transfers, because it charges a 5% balance transfer fee. 
The best credit cards with no annual fee
Chase Freedom: Both NerdWallet and ThePointsGuy ranked the Chase Freedom high in February for its cashback offering, $150 if you spend $500 in the first three months, 1% cash back on your purchases, and 5% cash back on purchases in a rotating set of categories. It's also got a 0% APR for the introductory period. 
BankAmericard Travel Rewards: For a no-fee card with better travel benefits, NerdWallet likes the BankAmericard Travel Rewards, which has a 20,000 point signing bonus if you spend $1,000 in the first 90 days, and no foreign transaction fees. 
The best cards if your credit is terrible — or you don't have credit history
Discover it Secured Credit Card: CreditCards.com and MagnifyMoney both picked the Discover it Secured Credit Card for top secured credit card, the latter in December 2016. It has no fee and earns cash back on purchases right away. You'll have to come up with at least $200 to open the account, but after seven months there is a monthly review to see if you can be upgraded to a deposit-free account. 
Capital One Secured Mastercard: If you're looking for a card with a lower deposit, NerdWallet notes that the Capital One Secured Mastercard comes with a limit of $200 on a deposit as low as $50, depending on your credit. The major downside of this card is that it's a little hard to get for a secured credit card — you can get denied if you don't have a checking account, or your rent takes up too much of your income, for example. For that reason, NerdWallet recommends it for first-time credit card users as opposed to people coming out of some sort of hardship.
Remember: As you improve your credit, you'll start to qualify for better cards with better perks. Geldis said in an email that a good rule of thumb is to avoid using 30% of your credit line or more, since credit utilization is one of the biggest factors in determining your credit score. And "the consumers with the very best credit scores keep it under 10%," she said.
If you're anxious about getting a credit card, it doesn't make sense to spend a lot of money on a swanky card with lots of perks. But with steady, responsible use you can set yourself up to qualify for lower interest rates on everything from mortgages to auto loans. 
Sign up for The Payoff — your weekly crash course on how to live your best financial life. Additionally, for all your burning money questions, check out Mic's credit, savings, career, investing and health care hubs for more information — that pays off.