Nintendo Entertainment System: NES Classic Edition: Price, Release Date, Games & More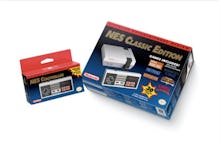 The NES Classic Edition, a teeny-tiny version of the Nintendo Entertainment System, will be available November 11 and come preloaded with 30 games from the original NES. The unit will cost $59.99 and be HDMI compatible, so you can hook it up to your TV. 
"We wanted to give fans of all ages the opportunity to revisit Nintendo's original system and rediscover why they fell in love with Nintendo in the first place," Nintendo of America President and COO Reggie Fils-Aimé said of the launch, according to Nintendo Life. "The Nintendo Entertainment System: NES Classic Edition is ideal for anyone who remembers playing the NES, or who wants to pass on those nostalgic memories to the next generation of gamers."
According to Polygon, the NES Classic Edition is a "near-identical mini replica" of the original console, which hit the market in 1985. This version will allow two people to play at once and will work with classic controllers. But, probably because this is a throwback, the NES Classic Edition won't be able to connect to the internet. 
What can you play on it? Donkey Kong, Super Mario Bros., The Legend of Zelda, Final Fantasy and many more. Read the whole list here.
The new NES Classic comes with the classic control pad, and a new version available for purchase separately (at $9.99), Nintendo Life reported. The new pad is Wii-compatible, so users can play on a Wii or Wii U. What won't be compatible are original NES carts, and it does not appear that additional games can be loaded onto the latest version. 
Read more: