Prince Harry Took an HIV Test on Facebook Live in "Groundbreaking Moment" in the UK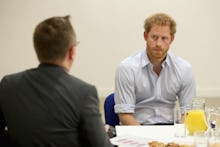 On Thursday, Prince Harry did his part in the fight against the UK's rising HIV rates by taking an HIV test on Facebook Live.
The entire event streamed from the Royal Family's Facebook page and has garnered over 735,000 views since it aired. 
The 31-year-old royal took a one-minute HIV test and encouraged others to go out and learn their status, as well. 
"It's amazing how quick it is," the prince said during the broadcast. "So whether you're a man, woman, gay, straight, black or white, whatever — even ginger — why wouldn't you come and have a test?" 
According to a press release, Ian Green, chief executive of British HIV/AIDS advocacy group Terrence Higgins Trust, said, "Prince Harry's decision to take an HIV test, live on social media, is a groundbreaking moment in the fight against HIV."
Green said that Harry's decision to broadcast his test will "amplify a message to millions all over the world: Testing for HIV is easy, quick and nothing to be feared."
Currently, about 103,000 people in the U.K. are living with HIV, most of them gay men or black people — similar demographics to the U.S. epidemic. Harry's testing message may hopefully reach straight men, who have the highest rate of late diagnosis for HIV in the U.K. 
Testing remains an important part of the fight against HIV. The sooner someone with HIV receives their diagnosis, the faster they can get on medication, which has been scientifically proven to effectively stop the transmission of the virus.
The prince's livestreamed test certainly broke ground across the pond. However, in May, Mic aired an HIV test on Facebook Live, in which I took a 20-minute test and two HIV-positive people joined the broadcast to talk about life with HIV.
You can watch Harry's Facebook Live HIV test, and Mic's, below.