Kristen Wiig's 'Bachelorette' Impression on 'The Tonight Show' Must Be Seen to Be Believed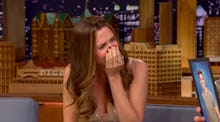 JoJo Fletcher from this season of The Bachelorette made an appearance on The Tonight Show With Jimmy Fallon this week — except it wasn't actually JoJo, it was Kristen Wiig, and it doesn't seem like she's ever actually seen an episode of The Bachelorette in her life.
The results were obviously hilarious — when Fallon asked Wiig (as JoJo) to explain what happens in the fantasy suite, she fumbled her way through an answer. "Um, the fantasy suites, that's where I go on dates, and we close the door. Sometimes, we kiss a little. Or we like, rub each other."
Then Fallon asked showed her photos of the men competing in this season of The Bachelorette and asked her to say their names. So what did Wiig come up with for Luke, Jordan, Chase and Robby? Scotchy, Mark Hamill, Deucey and Korn. Fair enough, actually.
Wiig capped off her appearance as JoJo with a performance of an original song that definitely did not exist before she sang it.
This isn't the first time Fallon has interviewed Wiig as someone else, check out her legendary appearence as Game of Thrones' Daenerys Targaryen here, and watch the whole Bachelorette interview below.
Read more: