These Natalie Portman and Jonathan Safran Foer Emails Are the Worst Sexts of All Time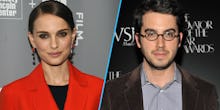 If you've been on the hunt for the perfect epistolary beach read with vaguely erotic undertones, then you may want to consider Thursday's T Magazine profile of Natalie Portman.
The piece is told through a series of email exchanges between Portman and Extremely Loud and Incredibly Close author Jonathan Safran Foer. The pair alternates between lighthearted smalltalk and deep musings on everything from movies to books to the unstoppable march of time and the general concept of free will. 
Below is Natalie's stand-out passage, in which she reveals that she dumps boyfriends in a manner very similar to the way Donald Trump eliminates Apprentice cast members:
An ex-boyfriend of mine used to call me "Moscow," because he said I was always looking out the window sadly, like "Moscow," like some Russian novel or Chekhov play. Clearly there were grounds for this ex getting fired, but he did have a point — I have that longing, yearning, it's-better-over-there tendency.
And below is Jonathan's stand-out passage, in which he reflects on garbage:
It's Thursday, garbage day. One of the garbage days, I should say. Thursday and Sunday are garbage days. Tuesday is garbage and recycling day. Monday and Tuesday are alternate-side parking days, which makes Tuesday — parking, garbage and recycling — a very special day, indeed.
Some of the emails might make you wonder if Foer had a thing for Portman, an impression bolstered by rumors that the novelist left his wife, author Nicole Krauss, for Portman in 2014. (Portman, who is married to the dancer Benjamin Millepied, is said not to have been interested.) 
One could read the emails as an exchange between two friends and intellectuals who respect each other's work. Alternatively, one could read the emails as Foer having an extremely hard and incredibly close erection for Portman. We'll let you, the reader, decide. 
To read the rest, check out the full story here. 
Read more: