Mike Pence Emerges as Donald Trump's Likely Vice Presidential Running Mate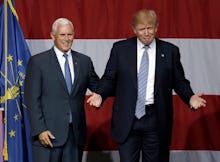 Donald Trump has reportedly decided to try to "Make America Great Again" with Mike Pence at his side.
According to multiple news accounts Thursday, the presumptive Republican presidential nominee is expected to name the Indiana governor as his vice presidential pick, opting for a younger, conservative running mate with both state executive and Congressional experience.
A prominent Republican member of Congress also told Mic that "based on talks with Indiana pols," Pence would be Trump's choice.
But top Team Trump figures aggressively pushed back, saying the presumptive nominee hadn't chosen anyone and would make a formal announcement Friday morning at his Manhattan headquarters:
Elected governor of Indiana in 2012, Pence previously spent 12 years in Congress. A lawyer, Pence came onto the political scene via a five-year stint as a talk radio host.
Speculation that Trump would choose Pence as the winner of the veepstakes ran high for weeks before the news dropped. The chatter ramped up after a joint campaign appearance as well as Trump's personal visit Wednesday, accompanied by daughter Ivanka and son-in-law Jared Kushner, to the governor's home.
Pence toyed with the idea of seeking the presidency himself, but made clear in May 2015 that he wouldn't jump into the already packed field of GOP primary contenders.
The Hoosier initially endorsed former Trump rival Ted Cruz of Texas for the nomination, but his tepid announcement included some serious props for the Manhattan mogul.
"I particularly want to commend Donald Trump, who I think has given voice to the frustration of millions of working Americans with a lack of progress in Washington, D.C.," Pence told host Greg Garrison of WIBC radio at the time.
Ups and downs: In choosing Pence, Trump would check off more than a few boxes. Notably, Pence, at 57, is substantially younger than the 70-year-old Trump.
Asked about Pence Thursday, Neil Levesque, executive director of the New Hampshire Institute of Politics at St. Anselm College, said via email that he's got his pros and cons:
1) He's an outsider but knows the halls of Congress. 2) He's a governor. He has the skills needed to manage a large state. 3) He has a Midwestern demeanor [that] appeals to Christians with strong conservative credentials. The Convention will love him. 4) He's a fresh face to many Americans and is also clearly qualified for the job.
On the downside, Levesque continued, "In several cases, the 'fresh face' candidate has later turned out to be less than qualified in the public mind," as in the cases of Sarah Palin and Dan Quayle.
"Pence," Levesque said, "would strengthen Trump's political brand, but would not be an attempt to appeal to new groups of voters through gender or ethnicity."
Additionally, his position on LGBT and abortion rights issues would also surely be fodder for both Democratic critics and his shifting stances on both have been boons to those who would seek to paint him as a panderer to the right.
Who is he? Born and raised in Indiana, Pence holds degrees from Hanover College and the Indiana University School of Law.
He and his wife, Karen, wed in 1985 and have three grown children.
Pence has described himself as "a Christian, a conservative and a Republican, in that order."
If he does win the veepstakes, Pence will have eclipsed potential Trump picks including New Jersey Gov. Chris Christie and former House Speaker Newt Gingrich.
The Republican National Convention kicks off Monday in Cleveland.
Read more: