The Alleged Healthiest Burger In the World Is Made From Over 50 "Superfood" Ingredients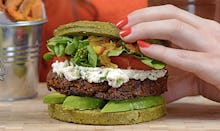 The latest stunt burger creation isn't one that crams 20 patties into one sandwich. Instead, the dish, which is completely vegetarian, is made from over 50 supposed "superfood" ingredients, alleging to be the healthiest burger in the world.
Discount deal site Groupon UK teamed up with nutritionist and chef Libby Limon to create the so-called Nutri-burger, which is "made entirely of superfoods," according to its Groupon listing. The ingredient list reads like Goop queen Gwyneth Paltrow's grocery shopping list. 
The trendy green burger buns are made from a matcha-spiked gluten-free brioche. The actual burger patty is made with quinoa, beets, natto (fermented soybeans) and mushrooms. The burger is topped with a whole host of ingredients including avocado, a vegan cheese and kimchi. 
In case that wasn't enough of a nutrient punch for you, the burger also comes with fries made from purple and orange sweet potatoes and a thick chocolate "shake," which is really a smoothie made from a blend of cacao, bee pollen and "activated nuts," the site noted. FYI: Nuts that are "activated" have been soaked in water.
The burger also comes with a side of massive health claims. The meal, according to Groupon UK, has "the same antioxidant levels as eating [6.6 lbs] of cooked broccoli." It's also packed with "21 of the top 100 antioxidant super foods" and provides 100% of the daily recommendations of fiber, vitamin A, vitamin C and iodine. 
While the nutritional punch is undeniable, and it is impressive that Chef Limon could pack foods like organic prunes, mustard seeds, acai pulp, watercress, coconut amigos and turmeric into one meal, there is no guarantee that it tastes good. And what exactly is the point of all the nutrition if it's impossible to eat unless you have the ... earthy palette of actress Shailene Woodley?
In any case, interested parties can enter to win a chance to eat the burger at Magpie and Stump in London or download the recipe and attempt making the burger themselves — you just might need to buy a Groupon to save on all of those groceries. 
Here is the full list of ingredients below:
Brown gluten free bread flourMatcha powderSteviaFresh yeastSugarAlmond rice milkWaterOrganic eggAvocado oilBlack sesame seedsLarge red beetRed quinoaRed onionGarlicCider vinegarShiitake mushroomsMustard seedsNattoOrganic black beansOrganic prunesSmoked paprikaWild oreganoGround white pepperSichuan pepperGround cuminChaga powderTurmericShoney seaweedCoconut aminosSumacDijon mustardDuck eggChia seedsHemp protein powderCoconut oilAvocadoHeritage tomatoKimchiWearnutkin "boursin" cashew cheeseWatercressPurple sweet potatoesOrange sweet potatoesBlack pepperAcai pulpActivated almondsActivated pecansBee breadBee pollenCinnamonCacao nibsWhite matcha tea powderBlack raspberry powderAcai powderMaca powderVanilla seeds
Read more: