Malala Just Spent Her Birthday Visiting the Biggest Refugee Camp in the World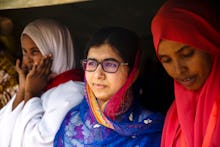 On Tuesday, Malala Yousafzai turned 19-years-old. Since 2013, her birthday has been declared Malala Day by the United Nations. 
As she is wont to stray from orthodoxies, Malala spent her birthday in a decidedly atypical way: in Dadaab, Kenya, home to the world's biggest refugee camp, promoting her cause.
Malala was propelled to international renown in 2012 after the then-15-year-old survived an assassination attempt by the Taliban. Malala's star had been on the rise thanks to her work supporting girls' education in the tribal regions of her native Pakistan when she sustained a gunshot wound to the head while returning home on a school bus.
Malala has since used her platform to amplify her message, which is precisely what the youngest Nobel laureate was doing on her birthday. 
In a blog post she wrote about her trip, Malala described the story of Rahma Hussein Noor, a 19-year-old Somali teenager she met in Dadaab. Noor had previously lived in the camp with her family. Upon returning home to Somalia, Noor was unable to continue her education and, left with few options, her father arranged for her to marry a man in his 50s. 
Refusing to accept that fate, Noor traveled alone by bus for eight days to return to Dabaad in order to complete her education. 
"We are facing a global refugee crisis and more and more girls like Rahma are at risk of losing their chance to go to school — and their dreams for a better future," Malala wrote in her post. 
With more than 65 million forcibly displaced persons, according to the UN's refugee agency, and more than 20 million refugees, scores of millions are deprived not just of education, but of basic human rights, too. Continued unrest in regions like the Middle East has only intensified the crisis in recent years. 
"We cannot allow girls like Rahma to fight alone. It's time to do right by girls ?—? #YesAllGirls," she added. "Today, on my 19th birthday, I'm asking you to stand with me and keep fighting for girls around the world who are denied an education."
Read more: