RNC 2016 Speaker List: Here's Who's Speaking on Each Day of the Republican Convention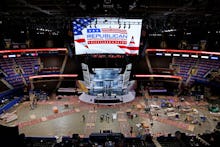 What, no empty chair? And no Mike Pence?
The Republican National Convention speaker list is filling out ahead of the big event's Monday kickoff in Cleveland, and it's as notable for who's not on it as who is.
Absent from the list: Indiana Gov. Mike Pence, who's being widely reported as presumptive nominee Donald Trump's pick for a running mate.
Scheduled to be in attendance at the Quicken Loans Arena are a slew of Trump's former rivals for the GOP nomination, including Sen. Ted Cruz, Govs. Chris Christie and Scott Walker and retired neurosurgeon Ben Carson.
He'll also be joined by his wife, Melania, and his children.
Marquee Republican figures slated to take the stage include Senate Majority Leader Mitch McConnell, House Speaker Paul Ryan, Republican National Committee Chairman Reince Priebus, Florida Gov. Rick Scott and former New York Mayor Rudy Giuliani.
The wide-ranging list also includes the first female space shuttle mission commander, Eileen Collins and Ultimate Fighting Championship president Dana White.
Not on the roster: Former Alaska Gov. and 2008 vice presidential nominee Sarah Palin, 2012 presidential nominee and Trump critic Mitt Romney, or either of the former Presidents George Bush.
"The initial list of speakers has the Trump family and people who have worked for Mr. Trump — those who can speak to the man himself," convention organizers said in a Thursday email.
"The list includes interesting people who have done interesting things — self-made people like businessmen, athletes, an astronaut, television stars, along with rising stars in the Republican Party from the first female College Republican chair to governors, senators and members of Congress."
The organizers of the convention, which begins Monday, added in the email, "There will be more to come today — including announcing the programming that will be coming via video. The first two: Marco Rubio and Bobby Knight."
The New York Times previously reported the lineup would include "a night highlighting the tragedy in Benghazi, Libya. An appearance by onetime football star Tim Tebow. A presentation detailing former President Bill Clinton's sexual misconduct."
While a complete line-up by day hasn't been announced yet, the Times reported the following breakdown.
Monday night
Sen. Tom Cotton
Rudy Giulani
Melania Trump
Sen. Joni Ernst
Tuesday night
Dana White
Gov. Asa Hutchinson
Former Attorney General Michael Mukasey
Lt. Gen. Michael Flynn
Sen. Mitch McConnell
Tiffany Trump
Donald Trump Jr.
Gov. Scott Walker
Wednesday night
Pam Bondi
Eileen Collins
Newt Gingrich
Sen. Ted Cruz
Eric Trump
Natalie Gulbis
Vice Presidential nominee (Mike Pence?)
Thursday night
Tim Tebow
Congresswoman Marsha Blackburn
Gov. Mary Fallin
Reince Priebus
Gov. Rick Scott
Peter Thiel
Thomas Barrack Jr.
Ivanka Trump
Donald Trump
Here's the full list as of early Thursday afternoon:
Pastor Mark Burns
Phil Ruffin
Congressman Ryan Zinke
Pat Smith
Mark Geist
John Tiegen
Congressman Michael McCaul
Sheriff David Clarke
Congressman Sean Duffy
Darryl Glenn
Sen. Tom Cotton
Karen Vaughn
Gov. Mike Huckabee
Mayor Rudy Giuliani
Melania Trump
Sen. Joni Ernst
Kathryn Gates-Skipper
Marcus Luttrell
Dana White
Gov. Asa Hutchinson
Attorney General Leslie Rutledge
Michael Mukasey
Andy Wist
Sen. Jeff Sessions
Retired Lt. Gen. Michael Flynn
Alex Smith
Speaker Paul Ryan
Congressman Kevin McCarthy
Kerry Woolard
Sen. Shelley Moore Capito
Dr. Ben Carson
Co-Chair Sharon Day
Natalie Gulbis
Kimberlin Brown
Antonio Sabato, Jr.
Peter Thiel
Eileen Collins
Senator Ted Cruz
Newt Gingrich
Michelle Van Etten
Lynne Patton
Eric Trump
Harold Hamm
Congressman Chris Collins
Brock Mealer
Congresswoman Marsha Blackburn
Gov. Mary Fallin
Darrell Scott
Lisa Shin
Gov. Rick Scott
Chairman Reince Priebus
Tom Barrack
Ivanka Trump
Attorney General Pam Bondi
Jerry Falwell Jr.
Rabbi Haskel Lookstein
Chris Cox
Sen. Mitch McConnell
Tiffany Trump
Gov. Chris Christie
Donald J. Trump Jr.
Gov. Scott Walker
Read more: