'Game of Thrones' may dominate the 2016 Emmys. Just look at 2015, its worst season ever.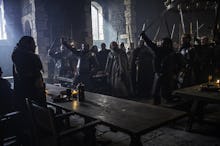 This shouldn't come as a surprise: Game of Thrones is poised to dominate the 2016 Emmy Awards after leading the way, once again, with 23 nominations. Of course, nominations are just the first stage of the process — they'll have to win a bunch of categories, too.
For anyone expecting this year's Emmys to buck the trend and stop praising HBO's fantasy series — don't get your hopes up. We'll likely be looking at another record-breaking haul for the show, after season five garnered 12 Emmy wins last year — the most in a single year on the awards show. If it can dominate the Emmys following, arguably, its least impressive and most controversial season to date, why would this year be the exception?
(Editor's note: This article contains spoilers from Game of Thrones.)
Let's go back, again, to season five. As it continued to veer away from the narrative of George R.R. Martin's novels, HBO and showrunners David Benioff and D.B. Weiss made dubious creative decisions that annoyed fans — none more apparent than its treatment of female characters.
There was, most notably, the way in which Sansa Stark's rape at the hands of Ramsay Bolton was portrayed. It's not a particularly revealing scene for either character — we already knew Ramsay Bolton was the most hated man in Westeros, and all of television, and we'd seen time and again Sansa being mistreated and abused by men. The same effect could've been applied off-screen with the same chilling result, instead of the gratuitous shock value we're provided.
It goes beyond the widely criticized rape scene, too. In one of the most upsetting scenes of the show entire show — and with Game of Thrones, that's saying something — Shireen Baratheon is burned alive at the stake by the Red Priestess Melisandre. Melisandre doles out the burning, but it's approved by her father, Stannis.
Essentially, to further the plot of a male character — in his mind, burning her alive with appease the Lord of Light and melt the Northern snow away, which actually does happen — his own daughter is worth the sacrifice. It's a troubling precedent, particularly after the show reveals in the very next episode that Stannis was clearly outmatched and doomed to lose regardless.
Yet despite fan distaste, season five took home a record amount of Emmys — including Outstanding Drama Series, Outstanding Writing and Outstanding Direction. But juxtaposed with season six — and the show's treatment of female characters has drastically improved. In fact, women have taken charge in Westeros.
They're not being burned alive for a man's ambitions; they're setting them on fire for threatening to rape them. Sansa confronts Ramsay and poetically feeds him alive to his own starved hounds. Aside from Jon Snow — and the show makes it plainly obvious that he's not the reason the Starks won the "Battle of the Bastards," Sansa is — all the leaders in charge are women. Even Melisandre, the last remaining survivor, has her comeuppance at the hands of Ser Davos after he discovers the truth, and she's banished from the North.
This doesn't even gloss over the technical brilliance of this season. Miguel Sapochnik directed two of the best episodes of the entire series in back-to-back weeks with the aforementioned Bastard Bowl and the season finale, which featured a captivating, Godfather-esque sequence for Cersei's explosive plan in King's Landing coming to fruition (coupled with a chilling score).
Game of Thrones had a terrific sixth season, and that alone should usher in a plethora of Emmy awards. If nothing else, the awards show is glaringly unimaginative with its top prizes, handing out the same awards to same actors and shows for years on end. Just look at Breaking Bad's run, or at how Julia Louis-Dreyfus practically wins Emmys for Veep in her sleep.
But if Game of Thrones is inevitably going to win top awards, despite impressive competition, at least this year, it truly justified the praise.
Read more: