Who Is Mike Pence, Donald Trump's Likely Vice Presidential Running Mate?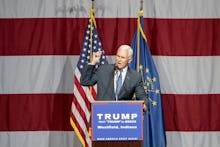 Donald Trump is reportedly moving closer to choosing Indiana Gov. Mike Pence as his vice presidential running mate — a move that would solidify the 2016 Republican ticket.
Trump landed on Pence after a weeks-long process in which he whittled down a field that included a number of more well-known national figures, including former House Speaker Newt Gingrich and New Jersey Gov. Chris Christie — among others.
But who is Pence? Here are some basic facts:
Current job: Pence currently serves as governor of Indiana, a position he was elected to in 2012.
Age: 57
Religion: Pence is an evangelical Christian — part of a group Trump is seeking to woo in his quest for president.
Past electoral experience: Before being elected governor, Pence served in the House for 12 years — from January 2001 until January 2013. In his last two years in Congress, Pence was a member of GOP leadership as the chair of the House Republican Conference.
Before his successful congressional bid in 2000, Pence lost two bids for Congress — one in 1988 and another two years later in 1990.
Life before politics: Pence is a lawyer by trade. In the mid 1990s, he began a career as a talk radio host in Indiana until his election to Congress in 2000.
Family: Pence has been married to his wife, Karen, since 1985. She is a teacher by trade, and as first lady of Indiana has spent her time focusing on education in the Hoosier State. The couple have three adult children: Michael, Charlotte and Audrey..
Policy positions: Pence is a stalwart conservative — both fiscally and socially.
He is against "amnesty" for immigrants in the country illegally — in line with Trump's own immigration stance. The governor is also a staunch abortion rights opponent.
Moreover, he opposes both same-sex marriages and civil unions, and has gotten himself in trouble during his time in governor over his policies on LGBT issues. In fact, his own re-election bid for governor has been saddled by controversy over his handling of a religious freedom bill in the state last year, which LGBT activists and business-owners said would have unfairly targeted LGBT rights.
Read more: