Rape Survivors Are Using Snapchat Filters To Tell Their Stories and Challenge Stigma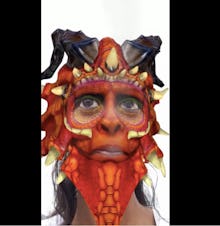 Goofy Snapchat filters aren't just good for sending cartoonish selfies. They can also provide a way for rape survivors to anonymously tell their own stories.
On June 25, about 50 people gathered in Mysuru, India to climb to the top of the Chamundi Hills as a public protest against sexual assault, according to the Hindustan Times. The march was part of a global mountain-climbing campaign by the nonprofit CLIMB, which stages events worldwide to break the silence surrounding sexual violence. 
The Hindustan Times' mobile editor, Yusaf Omar, recently met two teenage rape survivors at the march and gave them his phone to tell their own stories on Snapchat. 
"All these survivors were under the age of 18," Omar said in a Skype interview. "Mostly alienated from their families, expelled from their communities ... So even the prospect of doing an interview was so complicated and delicate, let alone filming it." 
He said these young girls were now living on their own, and exposing their faces online could harm their job and dating prospects. So the survivors chose their own Snapchat filters as masks. 
Omar suspects many of the survivors opted for dragon filters because they offered the most complete facial covering, while still allowing viewers to see their eyes. 
"Blurring faces, silhouettes and all those old TV tricks just wouldn't do [it] justice," Omar said. "We went to a secluded area ... I was the only man there, and even I stepped away during their recording. This was their moment." 
According to reports by the Human Rights Watch, 53% of children in India said they had been sexually abused. While the researchers warned against applying that statistic to Indian society at large, they emphasized that it was clear only a small percentage of underage victims reported their abuse to police. 
Omar's project raises the question: Could Snapchat help teens combat sexual violence without exposing their faces? He thinks facial mapping, the technology that makes Snapchat filters possible, is full of untapped potential for helping abused women and children tell their own stories through social platforms they already know how to use. 
"Reporting abuse is the next step," Omar said. "Law enforcers need to be listening across platforms and responding through chat apps ... Their [victim's] voices can no longer be silenced by social stigmas and family formalities. Apps like Snapchat and mobile journalism [are] allowing people to tell their own stories and overcome their mental demons in the most dignified way."
Read more: