Man in Indiana Creates GoFundMe for Racists to Send Him Back to Africa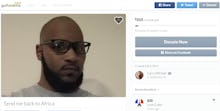 "If you don't like it here, go back to Africa!" 
That retort is often used by racist individuals who can't (or refuse to) understand why the United States can be a dangerous place for black people. Larry Mitchell — of Kokomo, Indiana — wants to see if these racists are willing to put their money where their mouths are. 
Mitchell created a GoFundMe page on Friday for people to donate funds to send him "back to Africa." "If you want me to go back to Africa, I will gladly go," Mitchell wrote on the page. "You can help make your dream and mine come true." 
The 41-year-old part-time forklift driver told the New York Daily News he came up with the idea to make the GoFundMe page after seeing a number of racist messages following the deaths of Alton Sterling and Philando Castile. 
"It kind of shocked me because we just celebrated Fourth of July, and to come back the next week and see people saying, 'Go back to Africa,'" Mitchell told the New York Daily News. "If you want me to go 'back' to Africa, then pay for it." 
The GoFundMe has a lofty goal of $100,000. As of Thursday afternoon, it had only raised $445, even though the page had over 14,000 shares online.
Despite the satirical tone of the campaign, GoFundMe spokesperson Bobby Whithorne said the fundraiser does not violate the website's terms.
"GoFundMe is an open fundraising platform, and campaign organizers are permitted to create campaigns that comply with our terms of service," Whithorne said in a statement provided to Mic. "Ultimately, it's up to the GoFundMe community of 25 million donors to decide which campaigns they support."
Some of the commenters found the page to be funny, while others weren't as amused. 
"Get a job and pay for it yourself," one commenter wrote. "You lazy scumbag." 
An individual with the username "fedup whiteguy" donated $5 to the campaign, leaving the comment, "You better not come back."
Read more: