Amy Schumer Reveals Her First Sexual Experience Was Not a Consensual One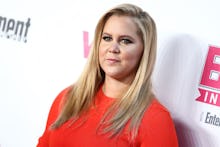 Whether you're aware of it or not, chances are you know someone who has a personal story to tell about rape culture and nonconsensual sex.
In the forthcoming August issue of Marie Claire, cover star Amy Schumer tells hers. According to the Huffington Post, Schumer described her first sexual experience as "not a good one," because she never gave consent.
"I didn't think about it until I started reading my journal again," she said. "When it happened, I wrote about it almost like a throwaway. It was like, 'And then I looked down and realized he was inside me. He was saying, 'I'm so sorry' and 'I can't believe I did this.'"
Schumer added that her first time wasn't an isolated incident.
"There are just so many factors," she said. "I had another time with a boyfriend where I was saying, 'No, stop,' and it was just completely ignored."
Schumer's story adds to an increasingly thorny conversation around consent and rape culture. Despite some states adopting affirmative consent mandates and the emergence of numerous campaigns to raise awareness around the issue, confusion about the definition of consent (i.e. a definitive "yes") remains. Meaning, that stories like Schumer's are still surprisingly common. The National Sexual Violence Research Center estimates that "one in five women and one in 71 men will be raped at some point in their lives."
"You know, with the rape survivor, it's not just shaming, it's fury," Schumer said in her Marie Claire interview. "It makes people so mad if you're not a perfect victim."
Read more: