Elena of Avalor, Disney's New Latina Princess, Is the Right Girl for a Multicultural World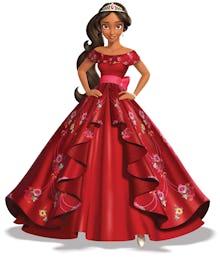 At long last, young Latina girls will have their wish come true. Disney is finally unveiling their long-awaited first Latina princess: Elena of Avalor. Sporting long, luscious dark brown hair, a striking red dress, and an attitude fit for a young queen in training, Elena is breaking new ground for the company — especially as her kingdom of Avalor celebrates a multicultural world that mirrors our own.
In unveiling their latest princess, executive vice president of Disney Junior Worldwide Nancy Kanter and the crew behind creating Elena are speaking candidly about what they hope Elena can represent to Latina girls. As Kanter put it after a preview screening of the Elena of Avalor show in New York City earlier this week, Elena was born of wanting to create another princess character who could embody a positive image of leadership for Disney Junior audiences.
Knowing that there had been plenty of calls for the addition of a Latina princess to the royal Disney roster, Kanter indicated they'd choose one Latino culture for her origin. But then, they changed tacks. "Why not develop the story and develop the look of Avalor with all of the richness that Latin and Hispanic culture and mythology and architecture and music could give us?" he said.
The notion of creating a character and a kingdom "with all of the richness" of Latin culture was daunting for the creators of the show. In addition to recruiting Latino talent that would help behind the scenes — including head writer Silvia Cardenas Olivas, composer Tony Morales and character designer David Cardenas — the crew pored over research about the region and its history that informs the characters, visuals and stories audiences will see in Elena of Avalor. They didn't shy away from grounding this new kingdom in very specific cultural references that could speak to the ever-growing Latino population in the U.S.
At first look, that means the show is a hodgepodge of cultural objects, something Disney has not shied away from touting as one of the hallmarks of the show. Ahead of the series premiere, the company released a graphic that singled out the way Avalor and its inhabitants represent the many varied cultural traditions housed within the umbrella term of "Latin America": the Avalor palace takes cues from "Caribbean, Spanish colonial and Mexican architecture." Elena's three magical helpers are "jaquins," a mix between a jaguar and a macaw "which are both indigenous animals to Latin America." Mateo, a young wizard in training, was given a "tamborita" inspired by the Mapuche in Chile, while his spells have Mayan glyphs.
The voice cast is just as eclectic. It features Dominican-American actress Aimee Carrero as Elena, Cuban actor Emiliano Díez as Elena's grandfather, and Mexican-born Christian Lanz as Elena's royal advisor, Chancellor Esteban, alongside a diverse American voice cast that includes Yvette Nicole Brown, Chris Parnell, Tyler Posey, Jaime Camil and Joey Haro. The same holds for the show's soundtrack, which includes mariachi, merengue, Latin pop, salsa, banda and Chilean hip-hop sprinkled all through the series's run.
Kanter, creator Craig Gerber and his crew have lent Elena of Avalor the universality that fairy tales depend on precisely by borrowing and adapting influences that never tie the show to any specific country or historical period. Elena is "Latina" in the broadest sense possible. She strums a guitar, enjoys talking to her abuela, and styles her hair with an apricot mallow, a flower that grows in Sonora and Baja California. She doesn't speak with an accent, though as voiced by Carrero, she can definitely roll her Rs and presumably sound like a fluent bilingual speaker should she need to.
In casting a wide net to create a Latina disney princess, Elena of Avalor reflects a multicultural world that is a perfect example of the way U.S. Latinos in particular have come to experience their culture and heritage. The diversity inherent in a label as wide-reaching as "Latino" — which, depending on who you ask and how you use it, can define regional, cultural, ethnic or familial aspects of one's identity — demands a princess like Elena. Rather than narrow her origins to any one nation or region, the show portrays a cosmopolitan grab-bag of what is celebrated within the plurality of Latin American cultures.
In fact, Elena of Avalor is a perfect example of the way Latino identity, claimed easily in public and in surveys, remains elusive in the real world. University of California at Los Angeles professor Otto Santa Ana described it in a piece titled "Is There Such a Thing as Latino Identity?":
It is entirely reasonable for an individual Puerto Rican from the island, or a Nuyorican from the Bronx, a recently-arrived Dominican-American, second-generation Cuban-American, or fifth generation Chicano to claim to be Latino. In public, it's done all the time.
Yet there is no discernible Latino community out in the world: There are Puerto Rican enclaves and Mexican barrios; Dominican neighborhoods and Cuban districts, but, as Santa Ana puts it, there's no one Latino "zip code" in the U.S.
That's precisely what Avalor becomes: a kingdom where Mayan glyphs, merengue dances, Spanish guitars, pre-Columbian folklore and Caribbean architecture exist in tandem with one another. Rather than dilute each other, they instead nourish the vibrant cultures they embody for audiences at home. It's in that spirit that one finds it encouraging that a character voiced by a Dominican-American actress got its Incan and Peruvian-inspired ball gown cooked up by a Brazilian-born and New York City-based designer. 
This is what's most exciting about Elena of Avalor: She epitomizes the very diversity found in Latin American cultures — emphasis on the plural.