Meet Tonr, the App That Fixes the Whitewashing Tendencies of Instagram Filters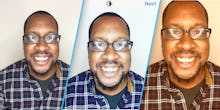 When Alesha Randolph wants to post a selfie on Instagram, she knows there's only one filter that is flattering to her skin tone: Sierra. Even then, she uses the photo app's other editing features to fine-tune the photo so she doesn't look whitewashed.
Yes, Instagram filters — and the very way film and digital photography functions — can work against people of color. 
But Randolph, a senior designer at Vox Media, and her fellow designers and engineers were tired of accepting it as a given. So they developed Tonr, a photo-editing desktop app built to enhance nonwhite skin tones, not wash them out.
"The goal of Tonr is to create filters that affirm that black, brown and other skin tones are beautiful," the developers said on the Tonr website. "We looked toward deepening the subjects' skin instead of lightening, emphasizing the richness and saturation of melanin and playing with interesting color overlays."
Vox Media designer and illustrator Brittany Holloway-Brown worked with Aidan Feay, a product engineer, to create the filters using Photoshop and Javascript, playing around with contrast and saturation to find the best balance to complement a range of complexions. 
Randolph said she, Holloway-Brown and coder Pamela Assogba, all black women, had a mini photo shoot to first try out the filters on themselves before later experimenting with photos of celebrities of color.
"I think just knowing that the app was created by people of color feels empowering to the community," said Randolph.
When designing the filters, Holloway-Brown said she began by creating them for the darkest skin tone and worked her way back. "I'm a medium-toned black woman, and often times I'm the last point of reference used, from media to makeup to TV, etc.," she wrote in an email. "I think it's very important to think of the margins of marginalized communities."
Tech companies aren't especially well-known for being diversity-conscious. After all, most famously lack diversity among their own employees. The result, said Randolph, is a user experience that typically reflects the "pale and male" demographic of the industry. She said Tonr is definitive proof that, if platforms wanted to be more including of people of color, it would take only the desire to do so — Tonr was created from start to finish in just a little more than two days during a hackathon.
"We have proof this issue can be solved in two and a half days," she said. "We may have technical bugs, but we have solved the issue of inclusiveness."
The Vox Media team said they will continue working on the app to allow users to log on to a personal account, save photos in a library and share them with others users. The app will also be open source, meaning other designers, engineers and coders can continue to expand the platform. The result, they hope, will be a creative community of people of color.
Of course, there will be plenty of selfies. And when it comes to marginalized communities, the power to control your own image, express your true identity and post a selfie you feel good about goes a long way. 
"With this app, we wanted to showcase that our skin is not something to be ashamed of, especially since there is a long history of toxic beauty standards placed on us," said Holloway-Brown. "We want[ed] to create a space for all types of faces and tones to be accepted and showcased."
Read more: