'Stranger Things': Check Out the First 8 Minutes of Netflix's Newest Drama Series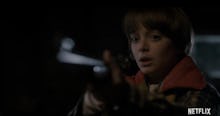 If Steven Spielberg pastiches sound appealing (think Super 8 and Midnight Special), look no further than Netflix's newest original series, Stranger Things. The show has been praised by critics for, essentially, being an amalgamation of some Spielberg favorites, including E.T. and Close Encounters of the Third Kind, and yes, it's set in the '80s. But if that's not enough to draw viewers in, Netflix has released the first eight minutes of the series a day before its release. 
The sequence sets the main mystery of the series in action, when a young boy, Will Byers (Noah Schnapp), vanishes into thin air after an otherworldly presence pursues him while he bikes home. It's a chilling scene, especially because Will does all the right things when he realizes he's being chased — he locks his front door, tries to call his mom and even runs out to the garage and loads a shotgun. Sadly, it's futile, as the mysterious creature seemingly snatches him up. 
It's certainly intriguing, and the plot synopsis indicates that Will's disappearance is just the tip of the iceberg of weird happenings in this small Indiana town. 
Stranger Things, which stars Winona Ryder, David Harbour, Noah Schnapp and Millie Brown, will be released in full Friday. You can check out the eight-minute preview for the series below: 
Read more: