Microsoft's HoloLens Site Reinforces Every Gendered Stereotype in Tech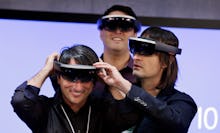 On Microsoft's website for its HoloLens apps — applications available for its augmented reality headset — it depicts men and women using the hardware in very different ways.
Let's take a look at the future for men in augmented reality!
Men — they search for stuff on Bing. They help their lady friends make important lighting choices. They build robots! They take a tour of the wonders of Machu Pichu. They annihilate enemies in a sweet ass first-person shooter game. They go on an ever-changing adventure with a hero squirrel. They are detectives in a high-tech crime thriller, transporting the dude detective in for clues. They can also develop for the hardware, making more sweet ass apps for their male counterparts. 
And now for the ladies
Ladies — they take the perfect photo of their couch. They consult with a man on lamps. They watch Grumpy Cat videos at work even though they have an "ASAP!" deadline. Silly ladies, can't pry their eyes off cute cats. And they gaze intently at the "Order now" button. 
In total, there are five instances of a woman sporting the headset compared to eight men — which means that women make up around 38% of the people on the site. That's better than the 27.2% of women on its leadership team and 30.6% of all employees recruited from universities, according to its 2015 diversity report. 
These depictions of men and women reinforce gender stereotypes that exist in Silicon Valley — and it's not Microsoft's first jaunt down sexism lane. 
The company came under fire this year for its sexist Game Developers Conference party where guests were greeted by women dancing on platforms. Also this year, its chatbot Tay evolved into a racist, sexist nazi. It was "deeply sorry" for Tay and said it "will do better in the future" following the GDC event. Well, do better. 
"Microsoft values diversity, and this is reflected in our marketing materials," a Microsoft spokesperson said in an email in response to the aforementioned images. "We've made an effort to represent an array of use cases in HoloLens materials that portray all people using HoloLens in business and entertainment scenarios." 
Read more: