Hillary Clinton Is Having a Campaign Event at a 'Pokémon Go' PokéStop — God Help Us All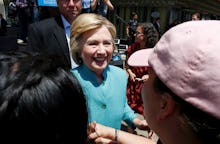 Well, we knew this day would come and it's finally here: The Clinton campaign has announced a campaign event at a PokéStop and gym in Lakewood, Ohio, Saturday, the Hill reported. 
That's right, cool kids: If you like Pokémon Go, come on down to Professor Clinton's Pokémon Paradise. The presidential candidate is obsessed with catching 'em all — or at least getting 'em all out to vote.
The official description for the event on Clinton's campaign website reads, "Join us as we go to the PokéStop in Madison Park and put up a lure module, get free Pokémon & battle each other while you register voters and learn more about Sec. Hillary Clinton!!! Kids welcome!"
All jokes aside, using lures to attract Pokémon Go players to an IRL business or event actually makes a lot of sense. On Thursday, reports surfaced that McDonald's had plans to partner with Pokémon Go and, possibly, turn all locations into PokéStops or gyms, ostensibly in the hopes of attracting more customers. 
Of course, those plans are all well and good, but McDonald's execs and Clinton staffers alike should know that turning your business or campaign stop into a Pokémon Go gym may guarantee that people will show up, but they may not look up from their phones.
Read more: