Hillary Clinton's 'Pokémon Go' Joke: We Need "'Pokémon Go' to the Polls"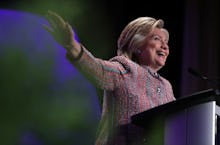 In yet another sign that Pokémon Go is taking over the world, presumptive Democratic presidential nominee Hillary Clinton invoked the game during a rally Thursday afternoon in Virginia.
"I don't know who created Pokémon Go, but I want to figure out how to get them to have Pokémon Go to the polls," Clinton said, holding back a smile as she delivered the line.
Pokémon Go — an app that gets people off their couches and into the real world to catch Pokémon — has swept the country since it was released on July 6.
Millions have downloaded the app on their smartphones since the app launched, and some have suggested the game could be a good way to drive young people to the polls in November.
Read more: