Donald Trump Draws Out Suspense on VP Pick, Even as Mike Pence Arrives in New York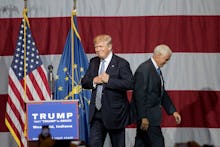 Welcome to New York, and perhaps the vice presidency, Mike Pence.
After blazing speculation that Donald Trump had tapped him as a running mate, the Indiana governor was seen arriving by private plane at an airport outside the city early Thursday evening and being swept into a police-escorted ride, per CNN.
Multiple news outlets reported throughout the day on a source basis that the Hoosier State executive had eclipsed other short-list contenders, including former House Speaker Newt Gingrich and New Jersey Gov. Chris Christie, and had accepted Trump's offer of a spot on the ticket.
Even after Pence had been reported as touching down on the East Coast, a Trump campaign spokeswoman stuck to the official line that no decision had been made.
At any rate, Trump will no longer be announcing his pick at 11 a.m. Eastern Friday, as originally planned. Following the apparent terror attack in Nice, France, on Thursday, he tweeted that he would be postponing the announcement.
And Thursday night, Trump the showman continued to ratchet up the suspense, telling Fox News host Greta Van Susteren that he still had some thinking to do:
Even still, a top New York Republican official said in an interview that he contacted a Pence staffer amid the reports and the exchange certainly left him with the impression that the deal was done.
"I sent him congrats," the source said of the Pence staffer, "and his exact words [in response] were, 'Thanks. It's going to be a wild four months.'"
Separately, a top aide to an Indiana member of Congress said in an interview Thursday, "I know from the state committee chair that the state party plans to do a caucus to replace Pence 12 days from today."
Pence, first elected to the Indiana governorship in 2012, is up for re-election this year, and should he be tapped as Trump's running mate, state Republicans will have to nominate a replacement candidate, as he may not appear on the ballot twice in Indiana.
Not all the reviews of Pence's expected selection were good.
"The selection of anti-gay crusader Gov. Mike Pence, along with the homophobic Republican party platform and a deafening silence on the LGBT Equality Act completes a trifecta of hate from Donald Trump on LGBT rights," Malcolm Lazin, executive director of the gay rights group Equality Forum, said in a statement.
Read more:
Emily Cahn contributed reporting.