Gay Republicans React to Mike Pence Selection With Mix of Resignation and Depression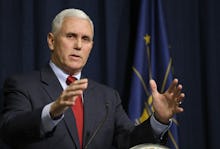 In a conventional presidential election, it would raise few eyebrows if the presumptive nominee of the Republican Party selected a staunch social conservative as his vice presidential running mate.
This is not, of course, a conventional presidential election — and Donald Trump, who's slated to formally accept the GOP nomination in Cleveland next week, has occasionally bucked conservative convention on no less a hot-button issue than LGBT rights: Celebrating Elton John's marriage, embracing Caitlyn Jenner, pronouncing himself a "real friend" of the community and promising continued progress on LGBT equality under a Trump administration.
Gay supporters have touted Trump as "the most pro-gay Republican nominee ever," hailing what they see as an opportunity to substantially shrink the Democratic Party's advantage with LGBT voters. But with his announcement Friday that he'd tapped Gov. Mike Pence of Indiana as his vice presidential running mate, Trump has stirred feelings of resignation and disappointment among many gay Republicans.
"The talk of Mike Pence as a vice presidential nominee, what we've been seeing and hearing in terms of the [GOP] platform, underscore for me — not just as an LGBT American, but as an American — the need for a new way forward," said Chrys Kefalas, who mounted an unsuccessful GOP primary bid for the U.S. Senate from Maryland earlier this year, and says he will not be voting for Trump in the fall.
"It's difficult to decipher where the Trump campaign is on a host of LGBT issues," Kefalas added. "We've heard some positive rhetoric but seen little action to show that the future looks bright for LGBT people."
Behind the unease: The vice presidential announcement comes more than one year after Pence became the public face of Indiana's controversial "religious freedom" legislation, which critics charged would provide a legal shield for businesses and individuals to engage in anti-LGBT discrimination. Following an outcry from businesses and activists, Pence signed a modified version of the legislation clarifying that it could not be used to sanction anti-LGBT discrimination in employment, housing or public accommodations, though LGBT rights advocates noted it didn't address discrimination in areas like health care and education.
Long before Pence championed the Indiana measure, he staked out unabashedly conservative positions on LGBT issues, opposing both same-sex marriage and civil unions and advocating "conversion therapy," a practice discredited by experts but nonetheless endorsed in the GOP platform approved this week in Cleveland.
The platform language and Pence's selection, Kefalas said, are a "devastating indictment of where the party is today."
"As a survivor of conversion 'therapy' — and therapy I put in quotes — it's disgraceful that any major party have language in its platform endorsing a practice that isn't supported by science and ultimately harms people to the point where they may take their lives," he said.
"Histrionics"? Chris Barron, the former national political director of the Log Cabin Republicans and a co-founder of the now-defunct group GOProud now leading an effort to convince LGBT voters to back Trump, dismissed the anti-Pence outcry as "histrionics from the left."
"Let's be clear," Barron said. "Trump didn't pick Kim Davis as his running mate. [Pence] is a governor of a state and former member of Congress, not an anti-gay activist."
But while his support for Trump remains undiminished, Barron indicated that he'd have preferred another No. 2.
Former House Speaker Newt Gingrich — who said same-sex marriage was inevitable in 2012, long before many in the party acknowledged it — may have better helped Trump "double down on the anti-establishment message," Barron said, calling Gingrich "incredibly smart and an incredibly talented debater."
Log Cabin Republicans President Gregory Angelo spoke approvingly of Trump short-listers Gingrich and Chris Christie, the governor of New Jersey, noting that the latter had signed a conversion therapy ban in the Garden State.
Gingrich, Angelo said, "time and again has expressed his understanding that one of the greatest existential threats to the LGBT community is radical Islamist terrorism."
A muddled message? Trump himself made that pitch in the wake of the June massacre at the gay Pulse nightclub in Orlando, Florida, condemning gunman Omar Mateen for setting out to "execute gay and lesbian citizens because of their sexual orientation" and saying that presumptive Democratic nominee Hillary Clinton "can never claim to be a friend of the gay community as long as she continues to support immigration policies that bring Islamic extremists into our country."
Though Trump has yet to publicly back same-sex marriage rights, his pro-LGBT rhetoric in the wake of the Orlando attack seemed to herald a turning point for the party — and a pivot toward greater social moderation in the general election. But as Trump looks to lock down support among constituents within his own party, the Pence pick may complicate efforts to win over LGBT voters and social moderates in areas like the Philadelphia suburbs, who will be crucial to Trump's hopes of turning the Pennsylvania red.
But Barron insisted that the subservient role of the vice presidential ticket meant that Trump's views would ultimately carry the day.
"For me, what matters is the nominee. The nominee sets policy," he said. "It's not going to be a good marriage if Mike Pence feels like he has to tell the country when he disagrees with Donald Trump. That's not the role of the running mate."
Angelo, whose group will decide this fall whether to issue an endorsement in the presidential race, echoed that sentiment, saying, "Time and again, when Trump has been given the chance to turn his back on the LGBT community, he has reached out to us."
Not so, countered the Human Rights Campaign, which has endorsed Clinton's candidacy.
"Donald Trump just doubled down on his agenda of hate and discrimination by choosing the notoriously anti-LGBTQ Mike Pence for his ticket," HRC president Chad Griffin said in a statement Friday. "Mike Pence has never left any question about his animus toward LGBTQ people, from peddling a hateful and damaging 'right to discriminate bill' in Indiana last year, to his longstanding opposition to marriage equality — positions shared by Donald Trump."
But Trump's opponents were bound to be dissatisfied by any running mate choice, Barron said. "Trump could've picked an openly gay running mate, and all we would've heard from the left was how terrible this election is."
"The left told us for eight years that it didn't matter that Dick Cheney [whose daughter, Mary, is a lesbian] was George W. Bush's vice president. It didn't matter what his vice president believed," Barron added. "Now they're going to tell us it matters what the vice president believes."
Others are less sanguine, noting that a Vice President Pence would be a 70-year-old's heartbeat away from the Oval Office — where he wouldn't be able to unilaterally overturn marriage equality, but could rescind President Barack Obama's executive actions against anti-LGBT discrimination, and would have the power to make crucial court appointments.
For gay Republicans not aboard the Trump Train, Pence's possible promotion only compounds their vexed feelings about the election.
"This is just going to be a tough election to decide how I'm going to vote," said Kefalas. "I'd love to write in [Maryland Gov.] Larry Hogan for president. But obviously, I want to vote for someone who actually has a shot at becoming president."
Read more: