9 Foods That Are Harder to Buy Than a Gun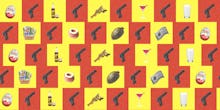 The prevalence of mass shootings in America, such as the recent tragedy in Orlando, has put the country's relationship with guns in the spotlight. While the Second Amendment protects citizens' rights to bear arms, federal law requires firearm owners to be 21 and submit a background check when buying from a licensed dealer. 
None of that is required, however, when purchasing guns from private sellers, the Daily Beast noted. This makes a firearm easier to purchase than many things in the country including cigarettes, birth control and a number of foods. 
Indeed, some foods require proof of age, are highly regulated by the American government, are only found in small quantities or require a significant amount of time and effort to acquire. 
Guns, on the other hand, are abundant, NPR noted, and can be purchased in just a few minutes, as a reporter for The Star demonstrated in June. 
Here are nine foods that are more difficult to purchase than a gun: 
1. A Cronut
The cronut, or croissant doughnut, was first created by pastry wizard Dominique Ansel in New York City in 2013. And ever since then people have been waiting in line for hours to get their hands on one. Besides purchasing a cronut on the black market, the only way taste the sweet pastry is to stand in line, rain or shine. Some eager customers have waited out by the bakery as early as 5:30 in the morning to be a first customer in line when the doors opens at 8 a.m. 
You don't have to wait in line to purchase a gun. As Mic previously reported, certain states don't require a license or a permit to purchase a firearm. Many states implement rules that would allow virtually anyone to purchase a gun and still have enough time to wait in a cronut line. 
2. Pappy Van Winkle
Beloved Pappy Van Winkle whiskey is extremely hard to acquire. Approximately 7,000 bottles of the booze are released each fall, Fortune reported. To get a swig or two, you'd have to know the right people and be willing to spend hundreds of dollars on a single bottle of the liquor. 
By contrast, there is an abundant supply of guns in the United States. In 2013 alone, U.S. gunmakers produced nearly 11 million guns, according to the the Bureau of Alcohol, Tobacco, Firearms and explosives. The year before that, manufacturers made nearly 9 million guns, according to a graph published by NPR.
3. A Martini
To get a martini — one of the most basic cocktails in the book — customers at any law-abiding bar in the country have to show a government approved form of identification to prove that they are at least 21 years of age. Anyone younger will technically be denied (unless they live in one of these states). 
Conversely, it's possible to own a rifle or a shotgun as a child in 30 states, the Washington Post noted. While a 13-year-old cannot lawfully purchase a gun on their own, their parent can ostensibly purchase one and gift it to them, for their birthday, Christmas or just as a special treat. 
4. Food Stamps
While you can't technically eat food stamps, they are the means by which 46.5 million Americans get access to food, and the process of registering for the federal aid program takes 30 days on average, according to the Daily Beast.
To get a gun in many states, a simple background check that can happen in a matter of minutes will do, the publication added. 
5. Raw Milk 
It's legal in only 13 states to sell raw milk in stores. In other states, the dairy product must undergo the pasteurization process before it can be sold.
Guns, on the other hand, are legal in each and every state, and aren't required to undergo any specific process before they are sold. 
6. Girl Scout Cookies
These cherished cookies sold by Girl Scouts are not available in store or online and can only be purchased six to eight weeks out of the year, according to the official website. The season during which they are available depends on when individual local troops sell the cookies, but the only way to pick up a pack is by ordering through a troop member.
Guns are available not only year around, but at most hours of the day, every day of the week. And buying one doesn't require tracking down a 12-year-old to place an order. GunTV even makes it possible for night owls to shop for firearms while the sun rises.
7. Kinder Surprise Eggs
A 1938 law banned thee delightful chocolaty Kinder Surprise Eggs from being sold in the states, and it is illegal to sell or buy them on U.S. soil. The treat features a plastic package in the middle that holds a toy and the government is worried that it is a choking hazard for young children, BuzzFeed reported.
There have been at least seven reported deaths due to choking on this product since 1989. By comparison, an average of seven U.S. children or teens are killed by guns — which are not banned in the states — every day in America, the Everytown For Gun Safety Support Fund noted. 
8. Haggis
The Scottish delicacy haggis, which is made from a sheep stomach or lung, stuffed with diced sheep liver, heart and more lung, as well as oatmeal and onion and seasonings, is technically illegal in the U.S. The United States Department of Agriculture banned any foods containing lungs out of concerns over food safety in 1971, BuzzFeed noted. So to get any properly, legally made haggis, interested parties must travel to Scotland.
A gun can be purchased online from the comfort of your very own bed, the Washington Post wrote. 
9. Chilean Sea Bass
The sale and farming of the popular seafood option is now heavily regulated by the American government because of overfishing. Only certified Chilean sea bass fishing boats can harvest and sell the fish, HG.org noted. 
Pretty much anyone can sell a gun. The online gun marketplace makes it especially easy to sell guns on the internet, said the Washington Post. 
Correction: July 15, 2016
Read More: