Nice Attack: Terror Reportedly Confirmed After Truck Plows Into Bastille Day Celebration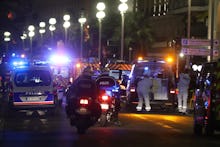 Police have called the truck that crashed into a crowd of revelers during a Bastille Day celebration in Nice, France late Thursday a "terror attack," according to Time. At least 70 people are believed to have been killed, according to officials. 
After reports that individuals were killed after a truck struck a crowd of people celebrating Bastille Day Thursday night, fears that the incident was a planned terrorist attack began to surface. Gunfire was reported at the scene of the crash, with eyewitnesses reporting having seen the driver of the truck exchange gunfire with police, however those early accounts were not confirmed. 
The city of Nice was put on lockdown following the supposed terror attack. Residents were told to shelter in place. "Dear Nice residents, the driver of a truck appears to have caused tens of deaths," Christian Estrosi, a local government official, tweeted shortly after the attack, according to a translation from CNN. "Stay for the moment in your homes. More info to come."
Twitter users began trending #PortOuverte, which means "open door," apparently to offer people still on the streets a place to shelter. 
Videos and photos of the aftermath of the crash began circulating on social media. 
July 14, 2016, 7:00 p.m. Eastern: This story has been updated. 
Read more: