After Bastille Day Attack, Nice, France, Offers Shelter With Hashtag #PorteOuverte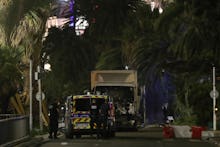 Following an attack on a Bastille Day celebration in Nice, France, that left at least 60 dead according to a French prosecutor's office, some Twitter users in Nice turned to social media to find shelter until the chaos subsided, again using the hashtags #PorteOuverte and #PorteOuverteNice, which translate to "open door" and "open door Nice."
Many users opened up their homes to those who might need shelter for the night, and some offered to help individuals separated in the turmoil find their loved ones. 
Users were sure to encourage one another not to share their addresses online, but to connect via direct message instead. Others spread news of free taxi services to help people get away from the scene of the attack. A sampling of tweets and their rough translations can be found below.
"Use this hashtag #PortesOuvertesNice all friends from Nice, for a roof or consolation. We are with you!"
 "A woman taking refuge at my house is searching for her husband Alberto Riomaro, thank you for RT."
The outpouring of support was a repeat of the activity seen on Twitter during the coordinated attacks that took place in November in Paris, and which left 129 dead and more than 350 wounded. 
In Nice, a truck ran into a crowd of parade onlookers and the exchanged gunfire with truck occupants at the scene, according to a CNN affiliate. The Associated Press tweeted that French officials were calling the truck crash "an attack."
This story is breaking and will be updated as more information becomes available.
Read more: