How to Change Your Facebook Photo to French Flag in Wake of Nice, France, Attack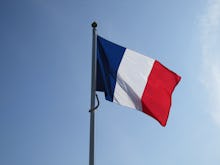 A Bastille Day celebration in Nice, France, was disrupted by a truck barreling through a crowd, killing at least 70 and injuring more than 100, reports say.
Police are calling the event a "terror attack," according to Time. If terrorism is the case, this will be the third attack in France in 18 months, starting with the June 2015 attack that killed 17 at the office of satire paper Charlie Hebdo and a nearby kosher supermarket, followed by the Paris attacks in November 2015.
When Paris was attacked, people took to Facebook to show their support by casting French flag filters over their Facebook profile photos. Here's how you can show your support the same way for Nice.
1. Find a website that offers filter overlays on original photos. Rainbow Filter is the site we used.
Avoid letting this site access your Facebook page. Instead, just hit "France Filter!"
2. Take your Facebook profile photo and drag it to your desktop.
3. Click on the "France Filter!" button. Again, don't worry about logging into Facebook.
4. Hit the "Download Picture" button, then upload your new profile photo to Facebook.
5. You're all set.
Read more: