What Is the Meaning of Bastille Day? Why an Attack in France on July 14 Is Significant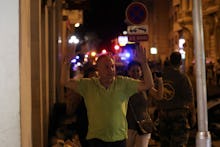 Hundreds of people planned on celebrating Bastille Day in Nice, France, by watching fireworks and participating in other activities Thursday night. Instead, the night ended in tragedy after a truck reportedly full of explosives and weapons struck a large crowd of people, killing at least 80. While the motive for the apparent attack was not immediately clear, it occurred on a holiday with great significance for many French people. 
Bastille Day, which is sometimes called National Day, holds some similarities to the United States' Independence Day celebration. The national holiday observes the rush of the medieval Bastille prison as the French were fighting for their freedom during the French Revolution on July 14, 1789. 
According to the Independent, Bastille Day represents the "beginning of republican democracy and the end of tyrannical rule."
The day itself celebrates the French national motto, "liberty, equality and fraternity," which originated in the French Revolution. The day, like the United States' Fourth of July, represents patriotism and freedom from tyranny. 
"Again. Sadness," Gérard Araud, the ambassador of France to the United States, wrote on Twitter. "These people only wanted to enjoy the Bastille Day fireworks with their family and their friends. Sadness." 
According to Time, police have called the truck that struck the crowd a "terror attack." 
July 14, 2016, 8:08 p.m. Eastern: This story has been updated.
Read more: