How to Use Facebook's Safety Check in Wake of Nice, France, Bastille Day Attack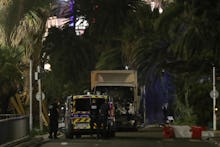 During Thursday night's Bastille Day celebrations in Nice, France, a truck drove into a crowd, killing at least 70 and injuring at least 100, Reuters reported. 
As news developed, families took to social media to search for missing loved ones. Facebook responded quickly, turning on its Safety Check feature, letting people in the region mark themselves as safe, letting friends and loved ones know they're okay in the midst of the disaster.
To check to see if your friends in France are safe, try this link, which directs users to an "Attack in Nice, France" page.
How to use it: Safety Check detects your location and sends you a push notification to log in and notify your friends that you're safe. During the Brussels attack in March, the notification looked like this:
Your friends will receive notifications that you've marked yourself as safe.
Facebook first unveiled Safety Check after the Paris Attacks in 2014 for emergency responses. The Paris attacks in November 2015 marked the first time Facebook used it for a violent event. At least 4 million people used it to mark themselves safe.
Read more: