After Nice, France, Bastille Day Terror Attack, Cab Drivers Offering Evacuees Free Rides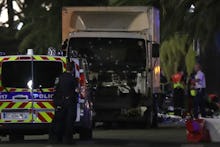 Cab drivers in Nice, France, are offering those fleeing the scene of what French officials are calling a deadly terror attack on Bastille Day a free ride. As news came pouring in of a truck plowing through a section of the crowd, killing at least 70 and injuring dozens of others, those in attendance of the national holiday celebration were fleeing the scene on foot and by car to safety. 
Journalist Lionel Top alerted users to head to taxis to get a ride away from danger.
Twitter users alerted nearby attendees of the Bastille Day promenade their homes were open for refuge in the midst of a chaotic scene using #PorteOuverte, or "open door," as they did in November after the Paris attacks that left 130 dead. Cabs were taking those fleeing the scene to refuge after a man reportedly stepped out of his truck after driving through the crowd and opened fire. The driver has reportedly been shot dead by police. 
Witnesses of the collision described it as "horrific." "White truck literally racing through crowds of all ages" Andrew Botros told NBC News. "People either caught in path or forced to jump onto rocks over beach barrier."
Most on the road ran away from the danger on foot, multiple videos from the scene show. Within minutes, social media lit up with images of lost loved ones with Facebook activated its safety check-in feature for users in the area to alert friends and loved ones to their status.
Read more: