Hillary Clinton Reacts to Bastille Day Attack: "This Is a War" Against "Radical Jihadists"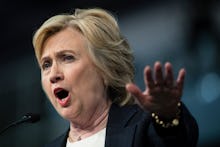 Presumptive Democratic presidential nominee Hillary Clinton on Thursday forcefully condemned what she called the "radical jihadist" terror attack in Nice, France, where a large truck rammed into a crowd of Bastille Day celebrators, killing more than 70 people. 
Sounding firm during an on-air phone call to Fox News' The O'Reilly Factor, the former secretary of state sought to balance her hawkish condemnation of Islamic radicalism with a paean to international cooperation, calling for an "intelligence surge" and work through multilateral institutions like NATO. 
But as she faces a general election battle against Donald Trump, who has hammered the Obama administration and Clinton for what he calls their weakness in the face of international terrorism, Clinton implicitly criticized President Barack Obama, her former boss, saying, "We've got to do more to understand that this is a war against these terrorist groups, the radical jihadist groups."
Clinton's choice of venue for her remarks was notable: A favorite of Republican-leaning viewers, Fox News is not a frequent destination for Clinton, a frequent target of attacks from the network's hosts — not least Bill O'Reilly. Since launching her 2016 presidential bid, she has only been interviewed on the network three times, including Thursday night.
Speaking with CNN's Anderson Cooper later on Thursday, Clinton made clear that she does not support a ground war to combat the Islamic State terrorist group, also known as ISIS.
"They would love to draw the United States into a ground war in Syria," Clinton said, adding that many terrorists believe such a war would "hasten the end times."
Read more: