Britney Spears Taps G-Eazy For Trap-Tinged "Make Me," Her First Solo Single in 3 Years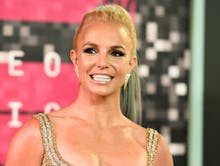 After 18 years as a member of pop aristocracy, Britney Spears' music has gone through tremendous changes. She rode that maximal pop wave with Christina Aguilera, Justin Timberlake and the Backstreet Boys back in the early '00s. She dipped her toes into a little Diplo EDM on her last project. For her latest trick, Queen Britney is trying out a little light trap. 
Thursday night, Spears dropped "Make Me," her first solo single since the trio she released off her 2013 effort Britney Jean, which features contributions from festival pop rapper G-Eazy. While it's very clear Britney and her team are trying to piece together as many of pop's recent tropes as she can, the song works ... really well, in fact.
Britney's harmonies rise and fall in moving swells on the chorus, and she picks good spots to land during the verse. In the nine hours since its release, the song has already shot to the top of the iTunes charts, inspiring Spears to write a thank you tweet in the middle of the night Friday.
"Make Me" is not the only single Britney has revealed prior to the release of her upcoming album. She included the song "Private Show" in the commercial for her new fragrance of the same name, shared Wednesday. That one has a more light, playful, waltz-like feel. Fans should keep their ears perked: Britney's ninth album may not be one to sleep on.
Read more: