8 Unexpectedly Delicious Wine and Popsicle Pairings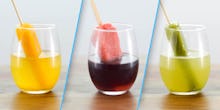 It's hot as hell, and working up a sweat while shaking a cocktail is out of the question.  
The remedy? A popsicle-wine cocktail. These gorgeous drinks are foolproof to assemble, and they look quite elegant too.
Here's how easy they are to make: Add wine to a glass and place a fruit popsicle headfirst into the liquid. (Or vice versa works well too.) It's easier than the easiest sangria recipe on the planet, and also easier than making booze-infused popsicles. No waiting for pops to freeze! It's instant gratification — you're welcome.  
You can let the popsicle melt into the wine, or dip the pop into the vino and eat the pop as one normally does. (Lick, bite, etc. You do you.) 
How to properly pair popsicles and wine: Yes, the recipe is undeniably simple, but the flavor combinations are nuanced. "When pairing wine and dessert, it is crucial to keep the sweetness level of both wine and dessert as similar as possible," Devon Broglie, master sommelier and global beverage buyer for Whole Foods Market, said in an email. Otherwise, either the wine or the dessert will taste too bitter, he said.
Luckily, Broglie has done the hard pairing work for you. Whether you like white or red, fruity or tart, there's a tasty wine and popsicle combo to whet your whistle. Any popsicles with similar flavors will do the trick. 
The popsicle flavors: We used Whole Foods fruit bars. 
The wines: We used a variety of red and white wine — see links in recipes below for specific brands. 
The pairings: Below, find eight different wine-popsicle combos to try this summer. 
Sparkling Mango Majesty
DIY: Mango fruit bars with Sparkling Cuvée 
Apple-flavored cuvée echoes the sweet flavor in the mango pop. Hubba hubba, this elegant cocktail's a winner when it comes to looks, too. This is Broglie's favorite pairing. (Wine: Presto Sparkling Cuvée)
Fruity Grigio 
DIY: Caribbean Mix fruit bars with pinot grigio
Pinot grigio lovers, this mix ups the ante on your favorite vino. The Caribbean popsicles add a hit of tartness to the grigio. (Wine: Criterion Pino Grigio)
Cheap Tart
DIY: Lime fruit bars with Vinho Verde
Vinho Verde is a Portuguese wine, and it's known as a "cheap and cheerful" drink, the New York Times noted. Get your cheer on by pairing your bottle with tart lime bars. (Wine: Broadbent Vinho Verde) 
Coco Chardonnay
DIY: Coconut fruit bars with chardonnay
Chardonnay can be slightly buttery tasting, meaning it pairs well with the rich flavors of coconut popsicles, Broglie said. This is no piña colada, but it's still a damn good way to be transported by the taste of booze and coconut. (Wine: Andover Estate Chardonnay) 
Tangerine Dream 
DIY: Carrot-Tangerine fruit bars with chardonnay
Not into coconut? Get a half cup of veggies and your buzz on with this provocative combo. (Yup, carrots and wine can intermingle and your taste buds will like it.) The sweet tangerine flavor accents the crispness of the chardonnay. Booyah. (Wine: West Side Co. Chardonnay) 
Suave Green
DIY: Tropical Greens fruit bars with sauvignon blanc
Peachy flavors in this vino accent the pear and kiwi flavors in these green fruit bars. Get some. Veggies, that is. This pop boasts a half cup of fruits and veggies. (Wine: Oya Point Sauvignon Blanc)
Ruby Rhubarb 
DIY: Berry Rhubarb fruit bars with cabernet sauvignon
Tart rhubarb and fruity cab sav is a match made in heaven. Opt for a canned wine if you've got a small crowd and don't want to open a full bottle. (Wine: West Side Wine Co. Cabernet Sauvignon) 
Strawberry Seduction
DIY: Strawberry fruit bars with pinot noir
A wise man once said, "Peenoo noir, caviar." Because salt-cured fish eggs can be pricey, opt for strawberry fruit bars instead. They're refreshing and they highlight the strawberry aroma of the pinot noir. (Wine: Macedon Pinot Noir) 
Read more: