Maisie Williams Reacting to Her 'Game of Thrones' Emmy Nomination Is Extremely Relatable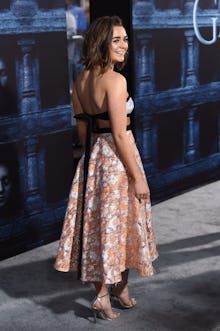 It certainly wasn't a surprise that Game of Thrones dominated the Emmy nominations once again this year, topping all series with 23 total for the 2016 awards show. Longtime actress Maisie Williams also grabbed her first nomination for outstanding supporting actress in a drama series — and it's safe to presume the nomination blindsided her following her reactions on Twitter. 
Below are Williams' reactions, in order, starting from disbelief to, well, more disbelief. 
Williams' reactions to her nomination were hilarious — and extremely relatable. However, it really isn't surprising; rather, the praise is overdue. Williams carried Arya Stark's narrative arc through what was mostly an uneventful two seasons across the Narrow Sea in Braavos, where she trained to become a Faceless Man and, literally, become "no one." 
The storyline has been criticized by critics — especially after the endgame was that Arya no longer wanted to become no one, she wanted to keep her identity as a Stark (this wasn't surprising, either). But along the way, Williams treated viewers to some compelling sequences, including a mesmerizing training montage.
As of Thursday, a girl is no longer no one — and finally got the Emmy nomination she deserves. Fans who want to see her take home gold can see if she manages it on Sept. 18 at 8 p.m. Eastern on ABC.  
Read more: