Deeniquia Dodds, Transgender Woman, Dead After Being Shot in Washington, DC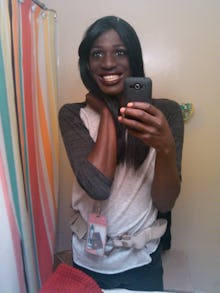 Police are investigating the death of a 22-year-old transgender woman of color, identified as Deeniquia Dodds, who died Wednesday night after she was shot in Washington, D.C., on the Fourth of July, local television station WRC reported.
WRC reported that loved ones called Dodds "Dee Dee." Dodds was "brutally shot in the neck and left to die," LGBT activist Earline Budd, a representative for Dodds' family, told WRC in a statement. 
"Her murder reminds us all of how often the transgender community is targeted for violence in our society," Budd said.
2015 was a record year for transgender violence in the United States. During the first two months of 2015, transgender women were killed nationwide at the rate of one per week. So far, according to the New York City Anti-Violence Project, 14 transgender and gender nonconforming people have been killed in 2016. 
Police found Dodds with a gunshot wound, and she was brought to the hospital and placed on life support for nine days. 
In a statement to Mic, Ruby Corado, the founder and executive director of Washington, D.C. transgender advocacy organization Casa Ruby, said, "Deeniquia was part of the Casa Ruby family, and she is gone, but not forgotten. Her death will not be in vain."
Corado added, "Casa Ruby denounces the genocide of young trans women of color. People in leadership need to address the employment barriers that keeps trans women of color from accessing the resources they need to grow healthy and thrive."
Joeann Lewis, who raised Dodds, told WRC that she was a "beautiful person" who "loved to make you laugh." 
The shooting is not yet being investigated as a hate crime, and the police have not released any information on the suspect. 
"We have no information to suggest the crime was motivated by hate, at this point," Metropolitan Police Department spokesman Dustin Sternbeck said to WRC. 
Lewis said family worried about Dodds' safety because she was a sex worker. She urged for more acceptance of people in the LGBTQ community. 
"Regardless of what their sexuality is, they are human beings just like we are," Lewis said to WRC. 
According to the New York City Anti-Violence Project, this act of anti-trans violence speaks to larger, systemic issues, as well. 
"We are saddened by the loss of Deeniquia Dodds, and send our condolences to her loved ones," Emily Waters, senior manager of national research and policy at the New York City Anti-Violence Project, said in a statement. "This violence is rooted in racism, misogyny, homophobia, and transphobia. We need to begin to notice how these dynamics are present and playing out in all of our environments, and then work to change them."
Read more: