Katy Perry's Surprise New Song "Rise" Is the 2016 Olympics Anthem We Needed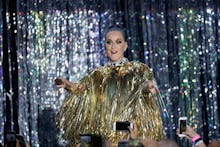 After a three-year silence following her uneven Prism, Katy Perry caught her fans off-guard, dropping a fresh single called "Rise" in the middle of the night Thursday. The single showcases what Perry does best — belting out motivational anthems, like "Roar" and "Firework." 
The beat is slow and deliberate, and Perry's vocal lifts soar like the "fires" and "vultures" she sings about. It feels a little like one of those overly epic hipster wolf T-shirts. The song will reportedly appear as part of NBC's 2016 Rio Olympic Games coverage, and is not the first single for her next album, as she seemed to clarify in a retweet Friday morning.
Perry released a statement with the song, published by Billboard:
This is a song that's been brewing inside me for years, that has finally come to the surface. I was inspired to finish it now, rather than save it for my next album, because now more than ever, there is a need for our world to unite. I know that together we can rise above the fear – in our country, and around the world. I can't think of a better example than the Olympic athletes, as they gather in Rio with their strength and fearlessness, to remind us how we ALL can come together, with the resolve to be the best we can be. I hope this song can inspire us to heal, unite, and rise together. I am honored that NBC Olympics has chosen to use it as an anthem before and during the Rio Games.
Her fans had an absolute field day sharing the news, and Perry retweeted some of the most choice tweets, tweeting, "KATYCATS SHOOK" as the reactions rolled in.
The song dropped at almost the exact same minute as another famed pop goddess's — Britney Spears' comeback single "Make Me" was also released last night. Listen to Katy Perry's "Rise" on Apple Music or purchase via iTunes here. Or check its accompanying music video, compiling scores of Olympic victories and defeats.
July 15, 2016, 11:10 a.m.: This article has been updated.
Read more: