Sikh Man Veerender Jubbal Falsely Accused of Terror Attack in France — Again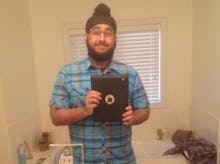 A Sikh man, Veerender Jubbal, was wrongly accused of being a terrorist at the Bastille Day attacks in Nice, France — making it the second time he was falsely accused of terrorism.
In November 2015, a digitally altered image of him with a Qu'ran went viral after the Paris attacks.
The image portrayed Jubbal with a bomb vest holding a Qu'ran, but in a simple glance, you can easily spot North American electric plugs, a dildo and horrific photo-editing skills.
The image landed on the front pages of several international newspapers in November.
When the photo was first released after the Paris attacks, Jubbal received multiple death threats.
In an essay for the Guardian, Jubbal — who has never been to France — said that he received multiple of threats from Twitter users. One of them also listed his phone number and home address.
"On Christmas Eve, six weeks after the Photoshopped selfie first went viral, I got a death threat on Twitter," Jubbal wrote. "The tweet said, 'Let's go kill at,' and then listed my home address and phone number."
Jubbal was forced to quit social media from the amount of threats and harassment he had received online.  
Jubbal said that he believed supporters of Gamergate edited the photo and posted it online.
Gamergate was a controversial discussion around the issues of sexism and harassment within video game culture. A controversial online movement emerged in response to the discussion where outspoken critics — many of them women — were victims of harassment. Jubbal was also an outspoken critic of Gamergate, and members of the movement, rejoiced at the backlash he faced.
Jubbal's horrific experience is a scary reminder to not believe everything released on the internet.
This is especially true when hearing breaking news reports on terrorism attacks. Often times, these reports are wrong, and anti-Muslim bigots will twist around facts — or just make things up — to further racist agendas. Unfortunately, Jubbal was one of their victims.