Ahead of RNC 2016, Let's Remember Some of the Craziest Moments in GOP Convention History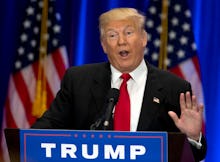 The Republican National Convention is set to kick off in Cleveland on Monday, and if the campaign that presumptive presidential nominee Donald Trump's been running has been any indication of what's to come, it promises to be a doozy.
Speakers on the docket to endorse the freshly minted Trump/Indiana Gov. Mike Pence ticket include Sen. Tom Cotton of Arkansas and Peter Thiel, the Silicon Valley billionaire who secretly bankrolled Hulk Hogan's lawsuit against Gawker Media.
In light of the fast-approaching RNC festivities, let's take a look back at the biggest breakout moments from Republican Conventions past to sate our appetites until next week.
1976: Ronald Reagan's "Unite the Party" speech
Although Trump has slid into the convention virtually unrivaled, sometimes, these things are nail-biters. Such was the case during the 1976 election in Kansas City, when conservative heavyweights Gerald Ford and Ronald Reagan were duking it out for the nomination. 
The vote was so close, in fact, that the numbers hinged upon just one state — Mississippi — and by the time the vote was over, Ford had narrowly eeked out a win. The notoriously generous (or ever politically-minded) Reagan offered to deliver a concession speech in the spirit of uniting the party under the Ford banner, and it ended up being a seminole moment that would all but solidify his candidacy in the next presidential election. Which brings us to... 
2008: Joe Lieberman
During his 2008 bid for the presidency, Republican John McCain earned an endorsement from a surprising bedfellow: Senator Joe Lieberman, who had been Al Gore's pick for the vice presidency just 8 years earlier in 2000. 
After the tide of Democratic popularity turned on him in 2006 thanks to his support of the Iraq War, Lieberman became a self-declared Independent. But when McCain summoned him to speak at the RNC in Florida in 2008, Lieberman answered the call with what TIME called "...an odd, disjointed speech from a man with perhaps too many parties to make a coherent argument."
2008: Sarah Palin "hockey mom and a pitbull" 
At that very same convention, Alaskan Governor Sarah Palin, McCain's pick for VP, would go on to give a speech that would more or less set the tone for her treatment in the media throughout the coming years.
The notoriously folksy Palin dropped her infamous line about the difference between hockey moms and pit bulls (lipstick!), and the crowd went wild.
2012: Clint Eastwood chair speech 
Of all of the memorable RNC moments that preceded it, Clint Eastwood's chatty, rambling conversation with an empty chair is perhaps the one most likely to elicit a head scratch.
The Academy Award-winning actor made an appearance in 2012 in support of Mitt Romney's failed campaign, in which he used the chair — supposedly as a proxy for (no pun intended) sitting President Barack Obama — to deride the Commander in Chief.
"What do you want me to tell Romney?" Eastwood asked the chair. "I can't tell him to do that to himself..."
The "exchange" quickly became an internet meme, with celebrities like Mia Farrow and George Takei doing Twitter's version of a collective eye roll at the bit gone wrong and hashtags like #emptychair and #clinteastwooding quickly going viral.
Read more: