'Ghostbusters' Is Out in Theaters — And Men on the Internet Couldn't Be More Upset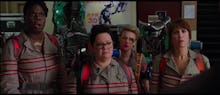 The all-female reboot of Ghostbusters is finally out in theaters after months of buzz. For those who really hate the thought of all-female leads taking over a revamped franchise, this is their worst nightmare. 
Yes, men on the internet were panning the new Ghostbusters long before it was even release, making it the most disliked trailer on YouTube, and more recently, tanking its IMDb rating. Again: This was before the public was actually able to view the film. 
Obviously, then, the IMDb rating for the film should be taken with the heaviest grain of salt, especially since it currently holds a 73% "fresh" rating on Rotten Tomatoes. The critical consensus is much more positive than the internet would want you to believe. In fact, many point to the impressive female leads — Kristen Wiig, Melissa McCarthy, Kate McKinnon and Leslie Jones — as the saving grace for the film that occasionally fails on a technical front. 
"By the last third, Ghostbusters is so awash in digital dizziness you can hardly see the characters for the megapixels," Peter Travers wrote in a review for Rolling Stone. "That's a shame, because the four actresses are something to see, capable of maneuvering through dead spots in the script like the pros they are." 
But now that the movie is actually out in theaters, the Twitterverse is filled with tweets from users who have claimed to have already seen it (the first showings were on Thursday night). The result is unsurprisingly negative, with some labeling it the worst movie they've ever seen. 
The reviews alone suggest some greatly exaggerated reactions to the film. Indeed, there were some negative scores, but in the same summer as many lackluster sequels and reboots — just look at the horrific Independence Day sequel or The Legend of Tarzan — Ghostbusters certainly isn't the worst.
Ghostbusters — much to the ire of certain misogynists — is currently playing in theaters. 
Read more: