Donald Trump Officially Names Mike Pence as Vice Presidential Running Mate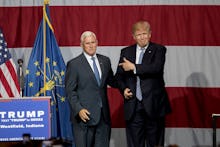 It's official: Indiana Gov. Mike Pence is Donald Trump's pick for vice president.
After days of intense speculation, Trump made the announcement in a tweet Friday morning.
A formal news conference is scheduled for Saturday morning. Trump is expected to accept the Republican nomination at the GOP convention in Cleveland next week.
The buzz around Trump's selection had narrowed to a handful of candidates, including Pence, New Jersey Gov. Chris Christie and former House Speaker Newt Gingrich.
Pence, a conservative Republican elected governor of the Hoosier state in 2012, flew east Thursday evening in anticipation of a scheduled Trump news conference Friday in midtown Manhattan. But Trump postponed that event following the terror attacks in Nice, France.
Pence acknowledged the news of his selection on Twitter shortly after 11:30 a.m.
He also reportedly withdrew as a candidate for re-election for governor in Indiana:
Presumptive Democratic nominee Hillary Clinton's camp quickly got out of the box with a scathing takedown of Trump's pick:
"By picking Mike Pence as his running mate, Donald Trump has doubled down on some of his most disturbing beliefs by choosing an incredibly divisive and unpopular running mate known for supporting discriminatory politics and failed economic policies that favor millionaires and corporations over working families," said Hillary For America Chairman John Podesta.
The Clinton campaign also rolled out a sharply critical video attacking what the campaign called Pence's extreme track record, both as a governor and previously as a member of Congress.
More broadly, the choice of Pence, 57, is already meeting with mixed reviews from both Trump's fellow Republicans and his foes outside the GOP.
Read more:
Emily Cahn contributed reporting.