Mo'Nique Just Opened Up About Why She Chooses to Be In An Open Marriage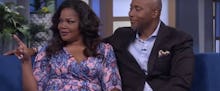 Academy Award winner and all-around delight Mo'Nique has never been shy about telling folks that she and her husband Sydney Hicks take a non-traditional approach to their marriage.
"Could I have sex outside of my marriage with Sydney? Yes," she famously told Barbara Walters in a 2010 interview. "Could Syd have sex outside of his marriage with me? Yes. That's not a deal-breaker."
Mo'Nique said that the media has speculated that her open marriage was just a "free pass" for her husband to cheat, and that she allowed him to stray so he wouldn't leave her. But in a recent interview on talk show The Preachers, the actress explained that the whole thing was actually *her* idea:
It was my idea because ... this is my best friend, ever. And what I did not want to do was be dishonest with my best friend. There may be times I may want to be with other men. And my best friend said to me, "Mama, I've loved you since the 10th grade. Do you think you being with another man is gonna have anything to do with me loving you?" And then he said, "Well you know if you can be with other men, I can be with other women."
Mo'Nique said that she felt that the reason people tend to assume otherwise is because of her personal appearance.
"When we first came out with it, everybody said 'Oh my gosh, how could Mo'Nique let than man do that to her?'" she said in the interview. "Because she's this big woman and he's this good-looking man and because she has this money, she's gonna let that man do whatever he wanna do just to say she has a fine man."
Lesson learned: Never judge an open marriage by its cover. 
In the end, both Mo'Nique and Sydney stressed the importance of communicating your feelings when trying to build a successful marriage (of any kind).
"Oftentimes we don't ever even have the conversation, because we're too afraid of what might come back," Mo'Nique said. "We're too afraid to say, 'Let me tell you how I'm really feeling.' And then you're gonna tell me how you're really feeling. And then we're gonna say, 'We're in it forever.'"
You can watch the full clip below.
Read more: