Donald Trump Presidential Race Watch: Here's a Roundup of Trump's Campaign Controversies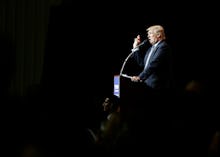 After an unsuccessful last-ditch attempt within the GOP to orchestrate a coup and subvert Donald Trump's formal presidential nomination, much of the party will spend the Republican National Convention swallowing the bitter pill that is their controversial candidate. 
And here is a roundup of Trump's campaign highlights, a comprehensive summary of the magnate-cum-politicians' controversies.
1. Nov. 17: An American Muslim wearing an American flag hijab schooled a Trump spokesperson on Fox News. 
On Fox News, Megyn Kelly hosted a segment on Trump's anti-Muslim grumblings (before he explicitly called for a ban). A spokesperson for the Trump campaign, Katrina Pierson, sparred with the Republican Muslim Coalition's founder and president, Saba Ahmed.
Ahmed made headlines for wearing an American flag scarf for a hijab. After Kelly suggested mosques were a breeding ground of extremism, Ahmed responded: "Megyn, we go to the mosque to pray." Adding, "our constitutional rights of free exercise of religion are going to be challenged."
Mic dropped. 
2. Nov. 22: Trump tweeted out neo-Nazi propaganda. 
Trump tweeted an alleged fact sheet about black-on-black crime and police shootings, which not only turned out to be completely wrong, but originated from neo-Nazi propaganda. 
The tweet has since been removed; after controversy regarding both its inaccuracy and the racially-charged nature of it, Trump took it down. 
3. Dec. 7: Donald Trump called for a ban on all Muslims traveling to America. 
This is undoubtedly one of the candidate's most famed moments from the campaign thus far. In the wake of the Paris and San Bernardino attacks — both committed by self-proclaimed Islamists — Trump called for a "total and complete shutdown" when it comes to Muslims emigrating to the United States. 
"A lot of people are dead right now," Trump said on Face the Nation Dec. 6, the day prior to his statement. "So, everybody wants to be politically correct, and that's part of the problem that we have with our country." 
"You have people that have to be tracked," he later added. "If they're Muslims, they're Muslims."
4. Dec. 28: Bernie Sanders cornered Trump into saying wages are too low. 
On Nov. 11, during an appearance on MSNBC's Morning Joe, Trump declared wages were too high. 
"We have to become competitive with the world," he said on the show. "Our taxes are too high, our wages are too high, everything is too high."
Democratic presidential candidate Bernie Sanders appeared on CBS' Face the Nation Dec. 27, directly attacking Trump for his stance on the issue. 
"[T]his is a guy who does not want to raise the minimum wage," Sanders said. "In fact, he has said that he thinks wages in America are too high. But he does want to give hundreds of billions of dollars in tax breaks to the top three-tenths of 1%."
To which Trump responded ... First by, perhaps ironically, calling Sanders a liar. 
And then by explicitly reneging on his previous statements: 
5. Feb. 21:  Trump garnered attention for his outlandish and brash response to the lights briefly cutting out during one of his speeches.
After the lights briefly cut out in Atlanta, Georgia, Trump decided to make keeping them off part of his mandate and got the crowd to chant "turn off the lights" once they came back on — Trump refused to carry on until the lights were dramatically dimmed. 
Taking a stand on the tough issues. 
6. Feb 28: John Oliver devoted an entire episode to roasting Donald Trump.
"Donald Trump is America's back mole," John Oliver opened the Last Week Tonight episode. "It may have seemed harmless a year ago, but now that it has gotten frighteningly bigger, it is no longer wise to ignore it."
What ensues is a whistle-stop tour of Trump's shortcomings, from his rumored vast amounts of debt to his refusal to condemn the Ku Klux Klan. 
7. Feb. 29: A Time photographer was choke-slammed by security at a Trump rally.
While photographing a Black Lives Matter protest during a Trump rally in Radford, Virginia, Time photographer Chris Morris was prevented from stepping outside the media pen in order to get a better angle for a photograph. Morris responded with a "fuck you," for which we was choke-slammed into a table by the event's security personnel. 
8. Feb 29: Thirty black students were ejected from a rally in Valdosta, Georgia, later that day. 
Thirty black students who had tickets to attend a Trump rally at Valdosta State University were removed after standing atop bleachers — they were reportedly neither making noise nor holding signs. 
There are conflicting reports as to whether the directive to remove the students came from the Trump campaign. 
"Dear Donald Trump, we have been watching you for a long time and what we see is deeply disturbing," a masked Anonymous collective member said at the start of their video. "Your inconsistent and hateful campaign has not only shocked the United States of America, you have shocked the entire planet with your appalling actions and ideas."
The hacktivist group threatened to hack and take down Trump-related websites at the time, starting with TrumpChicago.com. On March 17, the group released what they described as Trump's phone numbers, his social security number and other personal information.
10. March 30: Trump announced women who get abortions should be punished.
While being interviewed by MSNBC's Chris Matthews, Trump said "there has to be some form of punishment" for women who get abortions should the country make the procedure illegal. 
Clinton did not miss a beat, immediately lambasting Trump for his misogynistic comments.
Less than two hours later, Trump responded on Twitter by saying women should not be held accountable, but the people who perform the procedure instead.
11. June 12: That moment when Trump made the Orlando shooting all about himself. 
On the same day that Omar Mateen opened fire in a gay night club in Orlando, Florida, killing 49, Trump tweeted he "appreciate[d] the congrats for being right on radical Islamic terrorism ..."
Trump drew the ire of the internet, including Meghan McCain, the daughter of former GOP presidential nominee John McCain, who queried, "You're congratulating yourself because 50 people are dead this morning in a horrific tragedy?"
12. July 2: Trump tweeted out an anti-Semitic meme critical of his rival, Clinton, that originally showed up on a neo-Nazi, white supremacist internet message board. 
Trump tweeted out a meme with anti-Semitic overtones: Clinton was superimposed onto a pile of money with a red Star of David next to her, containing the words, "Most corrupt candidate ever."
The backlash and furor it produced resulted in Trump deleting the tweet and tweeting a simulacrum in which the Star of David was artfully replaced with a circle. 
On July 3, Mic uncovered the original meme had been featured on a neo-Nazi, white supremacist's message board, 8ch.net's /pol/, more than a week prior to Trump's tweet. The thread in which it appeared has since been deleted. 
13. July 15: Trump announces his pick for a vice presidential running mate: Indiana Gov. Mike Pence.
On Friday, Trump officially revealed the long-awaited selection of a running mate. Pence has in part established himself with his stark stance on reproductive rights — and how women shouldn't have too many of them. 
"The reason anyone in America could pick Mike Pence out of a one man lineup is because of his long history of targeted political attacks against the care provided at Planned Parenthood health centers in Indiana and across the country," Cecile Richards, president of the Planned Parenthood Action Fund, said in a statement via email. "Other than that, he doesn't have a single distinguishing characteristic."
Pence has literally described himself as "Rush Limbaugh on decaf." He sounds fun. 
Read more: