Rapper Old Man Saxon Cuts Moving Video "The Perils" to Raise Awareness About Homelessness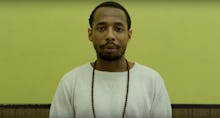 Old Man Saxon, a 27-year-old rapper and Los Angeles transplant, was homeless throughout 2014. He lived in his 2001 Ford Explorer, showered at gyms and ate McDonald's Happy Meals twice a day while following his musical aspirations, hiding the reality from friends and family. 
Apparently, it was unsettlingly easy. 
"It was scary how easy it was to hide it – it was lonely," Saxon said in an email conversation. "And sometimes that same loneliness creeps up when I realize how easy I can turn on and off my performance, my smile, my act."
Two years later, he's opening up. Monday, Saxon released his latest video for "The Perils," attempting to capture the disillusionment, the uncertainty and dizzying monotony of the life he once led. It offers a grim but honest portrait, with the aim to quash some of the misunderstanding and stigma that surrounds the reality of homelessness in America.
Directed by Anthony Yano Hays, the video takes viewers through a day in the life, as Saxon does laundry, washes dishes and dreams of flossing like the rappers he looks up to.
"I always liked hearing rappers speak about their homeless life in two or three words, but I always wanted to hear more about that," Saxon wrote. "Poverty is always spoken in past tense. But on 'The Perils,' that reality for me is where the real story is. I want to move people, not impress people."
"The Perils" serves as the title track off a 4-song EP, released earlier this year. They were chosen out of a full 30 tracks Saxon wrote while homeless.
"People need to know about this life," Saxon wrote. "There is an image of a homeless person that the general public has in their head. I want to show that there are college graduates that are homeless. Intelligent, hardworking individuals that are trying their hardest to get out of a shitty situation. I know there are others like me.  I saw so many people living in their cars. Young people. So I know there is a voice out there that isn't being heard. I made a conscious decision to create art of my situation in order to ease my mind. I believe the more personal the story, the more universal it is.
Watch the full video below, and listen to the EP here.
Read more: