Cory Batey, Convicted in the Vanderbilt Rape Case, Sentenced to 15 Years in Prison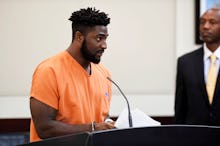 Cory Batey, one of the former Vanderbilt football players who raped an unconscious woman in her Nashville dorm room in 2013, has been sentenced to 15 years in prison.
Batey, along with former teammate Brandon Vandenburg, were both found guilty of the rape of the then-21-year-old woman in separate trials. Two more teammates, Brandon E. Banks and Jaborian "Tip" McKenzie, have pled not guilty to the charges and are currently awaiting trial.
Of his decision, Judge Monte Watkins said, "It is one of the saddest cases that I have ever encountered. And I've been in the legal business for 32 years." Fifteen years is the minimum sentence possible for the charges Batey faced.
Though Watkins said that the defendants would "basically have life sentences" for the grievous crimes they committed, including having their names added permanently to the list of registered sex offenders, the victim said during the hearing that she is the one who is facing a life sentence.
"It will never be possible for anyone to put into words how this has affected me," she said. "You will never understand what this has done to me if you aren't standing in my shoes. The humiliation, the pain, the isolation, being reduced to nothing but a piece of flesh right before your eyes, it does something to you that is truly impossible to describe."
On a June evening in 2013, Vandenburg took the victim out on a date. Security footage captured later in the evening shows Vandenburg, along with his three former teammates, carrying the unconscious woman up the stairs of their dorm.
During the trials of Vandenburg and Batey, prosecutors said that the woman was then raped and penetrated with "random objects," and that the woman was unaware that the attack had occurred until the district attorney's office showed her images of the assault.
According to The Tennesseean, Batey was found guilty of charges that included aggravated rape, facilitation of aggravated rape, two counts of attempted aggravated rape and three counts of aggravated sexual battery.
Read more: