Video Shows Police Tasing 24-Year-Old Patrick Mumford Before Realizing He's Innocent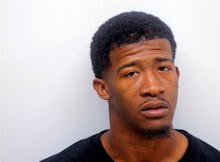 It wasn't until after 24-year-old Patrick Mumford was tasered, twice, that police found out they'd shocked the wrong guy.
According to a video originally posted to YouTube by the law firm Claiborne Firm, the body camera of an officer for the Savannah-Chatham Metropolitan Police in Georgia caught a confused Mumford on film as policemen demanded to know his name. The officer was looking for Michael Clay, who was to be served a warrant, according to the post.
When Mumford identifies himself as "Patrick," the officer demands he stand up and put his hands on the car. When Mumford asks about his apparent crime, the officer says he has a warrant out — which Mumford knew to be false, since he'd just returned from visiting his probation officer, the video captions say.
When Mumford asks to see the warrant, an officer instructs another to tase the 24-year-old. He does — twice, captions note — as Mumford continues asking about what he'd done.
After finally getting Mumford's ID out of his wallet, and seeing the officers had a man named Patrick Mumford and not Michael Clay, one of the officers says, "I don't know if you've got a warrant, because you're not who I'm looking for. But here's the deal: When I ask you for ID because you looked a lot like the person we're looking for ... you give us ID."
The officer did not ask Mumford for his ID, the video captions note. Additionally, it points out Mumford does not look like Michael Clay.
According to the video, it was only 38 seconds after asking Mumford for his name that the officer instructed another to tase him. SCMPD has countered the video representation is "highly edited and a gross misrepresentation of what unfolded at the time," according to WJCL. They also released full body cam videos from the three officers "to continue our transparency with the community," according to a police statement. The first of those videos can seen below.
As of Friday, a copy of the original video reposted to Facebook by Shaun King, senior justice writer for the NY Daily News, has collected 4,000,000 views. And commenters are furious.
After all was said and done, Mumford was still arrested for obstruction, which put him in jeopardy of losing his job and landing a seven-year prison sentence, King wrote in his post.
Read more: