Thanks to Facebook, This Mother Just Found Her Missing Baby After the Nice, France, Attack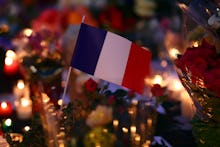 After a truck reportedly filled with explosives and weapons plowed through a large crowd of people in Nice, France, killing 84 people Thursday night, many friends and family members were separated during the ensuing chaos. While people were scrambling to avoid the path of the oncoming truck, an unnamed mother was separated from her 8-month-old boy.
Tiava Banner, a friend of the mother, took to Facebook in an effort to spread the word. "Nice friends, if you've seen him, if you were there, if you have collected [him] please contact me," she wrote in French, according to MSN. The post was shared over 20,000 times.
Yohlaine Ramasitera and Rebecca Boulanger, also friends of the mother, shared photos of themselves with the child on Facebook in hopes that someone would recognize the missing boy. 
According to Boulanger, the infant was found safe. "Thank you Lord," Boulanger wrote on Facebook. "With such a horrible night, it is such a miracle that through all the sharing on Facebook, he was found!" 
The viral Facebook post caught the attention of a Mrs. Joy Jostle, whom Banner thanked when the child was found. It appears that Jostle is the individual who found the infant after the attack.
Read more: