Inside the Surprising Popularity of "Cheating Married Men" Porn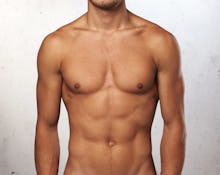 When Brandon* was just a teenager, he discovered that his father was having an affair. "It bothered me for years," he said in an email to Mic. 
However, his discomfort with his father's infidelity later manifested itself in a surprising way: he developed what he calls a "fetish" for married men. 
"There's something about content based on an unfaithful man [that's] exciting for me," Brandon, who describes himself as "a gay man in his late twenties," said. "The attempt of secrecy, the idea he is showing off to an audience when he really shouldn't."
In 2011, Brandon's secret desire inspired him to start a Tumblr blog devoted to married heterosexual men, "Cheating married men, dads and boyfriends exposed!" The blog consists of a seemingly never-ending stream of nude, fairly average-looking older guys, all of whom sport visible wedding rings. 
Even though these men are all ostensibly straight, they submit their images to the site, Brandon says, because they enjoy being lusted after by anonymous strangers on the internet. "[They] want to show off something that should be forbidden to others," he said. 
"[They] want to show off something that should be forbidden to others."
If you put the seemingly innocuous terms "married man" and "Tumblr" together in a Google search, you will be greeted with page upon page of dick pics and porn GIFs. Some of the very NSFW results include Brandon's blog, as well as such titles as "Naughty Girls and Married Men" and "Naked Men and Wedding Rings."
It's not just a Tumblr thing. Pornhub, the juggernaut tube site that gets 21.2 billion hits a year, reported in data shared exclusively with Mic that search terms like "cheating husband," "married man seduced" and "friend's husband" are also popular amongst their overall user base. Women in particular were found to be 24% more likely than men to perform these types of searches. The site has also previously reported that "married" is the 18th most popular search term amongst its gay users. 
"There is something alluring about those who wear wedding rings, and users' fantasies are clearly playing out in Pornhub searches," Pornhub VP Corey Price said. "Users seem to be especially interested in searches concerning cheating."
Susan Krauss Whitbourne, a psychology professor at the University of Massachusetts Amherst, believes that the forbidden nature of married men makes them an obvious subject for women's fantasies.
"I would say that the married individual (in general or in porn) presents an unattainable object which adds to the mystery, intrigue, and sense of danger," she said. "After all, that's what porn is about and as long as it's fantasy, there's no actual risk or harm done to anyone."
For gay men, the unattainability of a wifed-up man is doubled: not only is he married, but he's also presenting to the world as straight, and likely hypermasculine.
"There's still a lot of internalized homophobia within the gay male community centered on [the fetishization of] 'straight-acting' men," psychotherapist and author Joe Kort previously told Mic.
The man behind the NSFW Tumblr account "Service Married Men" (who prefers to remain anonymous) says that his site was inspired by more than just a distant fantasy. It was directly inspired by his many real-life experiences with, um, servicing married men.
"There's a certain safety about them," he explained in an email.
"No risk of emotional attachment, as it's purely the physical pleasure they crave, not the romantic entanglement. Plus, a guy knows what another guy likes," he said. 
The taboo associated with certain gay male sex acts adds to the thrill of such encounters, he added. 
"There's a real thrill in rimming a straight, married [guy], as that's something the majority have never experienced, certainly not with their wives anyway," he said. "Most go through life missing out on an incredibly intense sensation and it's a massive turn on to give them this taboo experience, especially if it's their first time."
But while the idea of the married man having an actual wife at home — with sexual preferences, thoughts and maybe even a Tumblr, albeit SFW and gardening-oriented, of her own — can make the experience hotter for some people, for others it can be the exact reason why married man porn will always be nothing more than a masturbatory fantasy. For example: Brandon, who believes his fetish was shaped by one of the most traumatic events of his life.
"I would never engage in any sexual acts with married men," he said. "I just simply enjoy this content because I hate it."
Still, Brandon doesn't have any shame or self-consciousness about his desire for married men, provided the fantasy always stays confined within the computer screen. 
"Fetishes can be made by some negative life experiences," he said. "My fetish and past issues do not affect me enough to cause me any pain, so I would call it healthy and normal."