Selena Gomez Has the Most-Liked Instagram Photo of All Time — But It Sucks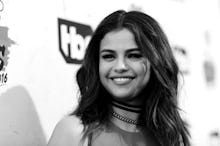 Selena Gomez's new hit single "Kill Em With Kindness" perhaps ought to be called "Kill Em With Soda" instead. 
One of Selena Gomez's latest Instagram photos just became Instagram's most-liked post of all time, Time reported. As of this writing, the photo below (posted two weeks ago) has 4.4 million likes. 
The image is part of Coke's "Share a Coke and a Song" campaign, for which lyrics from over 70 songs will be featured on Coke bottles this summer, Time noted. 
Using young, hot celebs to promote soda is nothing new (we see you, Beyoncé) — but really, Selena? You had to rep Coke? 
In case you didn't know: Coke is bad for Selena's young, impressionable fans. As Mic previously reported, research shows that children younger than 8 years old don't understand the persuasive power of advertising.
A can of Coke has 39 grams of sugar. Soda consumption leads to tooth decay; poor bone health; wrinkly, less youthful skin; and, oh yeah, obesity and diabetes. Roughly 12.7 million children and teens in the United States are obese. 
Researchers even found that you can tell how much soda a person has consumed by examining their hair. Perhaps they should check out Selena's gorgeous mane to see if she actually drinks what she hawks. 
"I try to be as authentic as possible with everything I do, so nothing is forced," Gomez told Billboard when she first inked the Coke deal back in April 2016. Uh huh. 
Read more: