ISIS Claims Responsibility for Deadly Attack in Nice, France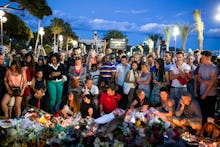 On Saturday, the Islamic State group, also known as ISIS, claimed responsibility for the Bastille Day attack in Nice, France, that killed 84 people and wounded 200, according to the Associated Press.  
31-year-old Mohamed Lahouaiej Bouhlel drove a truck into a crowd during Bastille Day celebrations, just as a fireworks display was wrapping up. According to a security source linked to the Amaq News agency, which acts as a semiofficial news outlet for ISIS, Bouhlel was a "soldier" of ISIS who carried out the attack "to answer the calls for targeting the nationals of countries in the coalition that is fighting Islamic State," the New York Times reported. 
According to SITE Intelligence Group, ISIS featured the claim at the top of its news bulletin on its radio station, Bayan Radio. ISIS also claimed that all "crusader states" are not safe. 
ISIS has claimed responsibility for terrorist attacks before, even when the organization was not involved in planning the violence. According to the AP, there is no evidence ISIS was involved in planning or carrying out the July 14 attack. 
After ISIS claimed responsibility for the tragic mass shooting in Orlando, Florida, CNN wrote: 
"The claims underline a pattern in which ISIS seeks to inspire sympathizers to carry out attacks — with or without operational support from the group — and then claims responsibility for the carnage after the fact. In such plots, the connection to ISIS as a central organization may exist only in the attacker's mind, but the resulting violence is no less lethal."
According to the AP, Bouhlel was a Tunisian delivery man living in Nice who was "known to authorities as a petty criminal." 
Bouhlel's father told Agence France-Presse that his son lived with depression and had "no links" to religion. Also, those close to him say he showed no signs of radicalization and that instead he was a "loner who never responded to their greetings," according to Agence France Presse. 
"From 2002 to 2004, he had problems that caused a nervous breakdown," the father reportedly said. "He would become angry and he shouted ... he would break anything he saw in front of him."
Read more: